What is iPackager
iPackager is a utility to package repository objects, users' preferences and configuration settings from Intellicus repository or local file system. This packaged information can then be deployed at any of the installation of Intellicus.
This way, you can use iPackager to setup and maintain Intellicus repository from remote location.
When Intellicus is deployed at multiple locations, iPackager helps save a lot of efforts spent to set up Intellicus repository at each of the locations. Set it up at one location and just upload the package at other locations. This method completely eliminates the need of re-doing all the configuration activities at multiple locations.
How to access iPackager
You can launch iPackager from the Intellicus Portal as shown below.
To open iPackager, click Navigate > Repository > iPackager.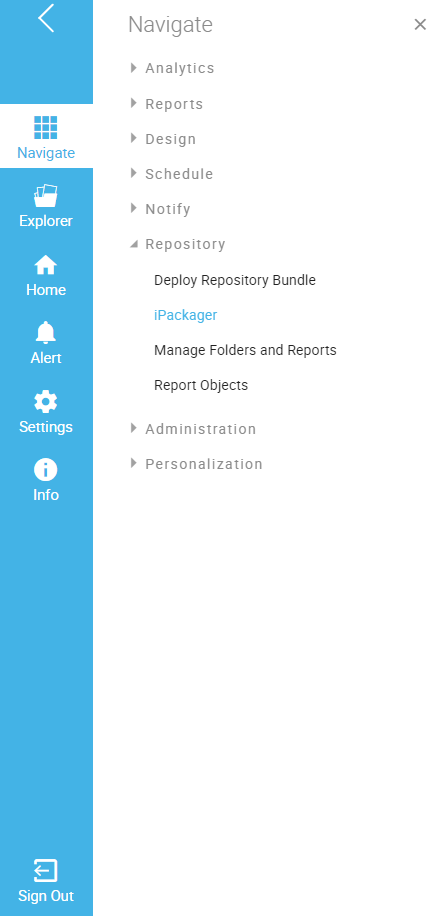 Figure 1: Menu option to open iPackager from Intellicus portal
How does it work
iPackager extracts references of the selected information (repository objects/user preferences/configuration settings) from the repository or file system and stores as .conf file (saved on the Web Server with a default name 'Untitled.conf'). You can open a configuration file and make changes to it.  A configuration file is then used to build the cab file. This cab file is later deployed on the Intellicus server.
Using Intellicus iPackager, you can package and distribute:
Organization, User, User Access Rights and User Mappings
User Created Private Objects
User/Organization Preferences
Repository objects like categories, reports, query objects, parameter objects, analytical objects, dashboards and dashboard widgets
Approval Process details
Report Schedules
Data Connection information (along with access rights information)
Printer Settings
Web Client Properties
Report Server Properties
License File
Templates
Tip: Use iPackager to package entire repository (all the information that iPackager can presently package) and keep it as a backup at a safe place.
Who should use iPackager
Only Super Administrator can use iPackager.
Application Window
Top of the application window has menus. Remaining part of the screen is divided in three panes: Entity Type, Select Entities and Selection Summary.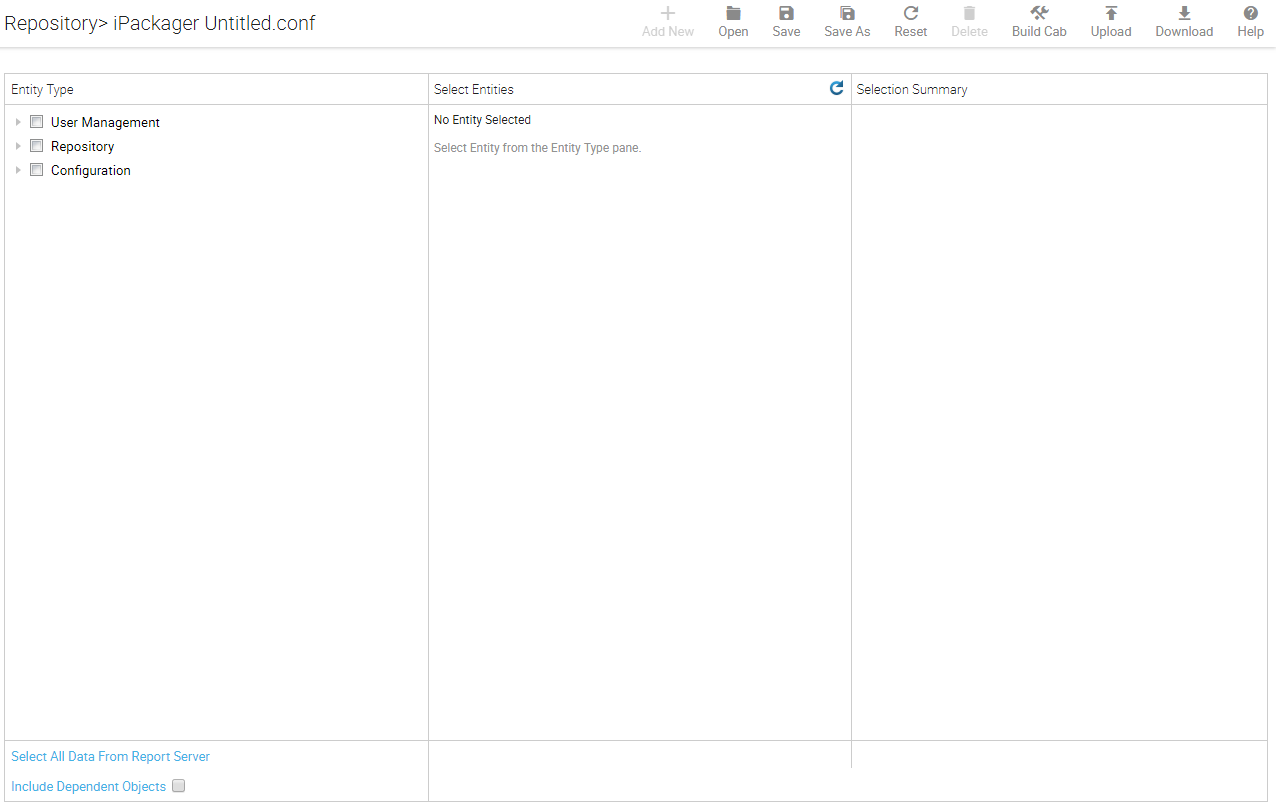 Figure 2: iPackager home screen
Entity Type: This is the list of all repository objects available on Intellicus Report Server.
Select Entities: This is the list of entities selected for creating the configuration file.
Selection Summary: This is the area where you can view the summarized details of your selected objects.
Menus and options
Task that you want to perform can be initiated by clicking the respective menu options.
Add New: To load a new configuration file.
Open: To open an existing configuration file.
Save: To save changes to the configuration file.
Save As: To save the configuration file with a specified name.
Reset: To reset to the last saved state of the configuration file.
Delete: To delete an existing configuration file.
Build Cab: To build the Cab file (discussed under 'Building the Cab file' section).
Upload: To upload configuration file onto Web server.
Download: To download configuration file from Web Server to the browser's default download folder.
Creating a new Configuration file
When you launch iPackager, it also opens a new blank configuration file.  You can just start working on it.
If you are already working on a configuration file, then you should click "Add New" to create a new configuration file. This would unload the already loaded configuration file and clear the Entity Type, Select Entities and Selection Summary panes.
Opening a Configuration file
Click "Open" to populate Entity Type, Select Entities and Selection Summary sections of an already saved configuration file on the Web Server.
When you open a configuration file, iPackager validates all the information stored in the configuration file by actually accessing the information from server.  If any of the information is missing, it will give an error message and the respective item would be highlighted in red.
Deleting a Configuration file
For an opened Configuration file, click "Delete".  A warning dialog will appear.
Click "OK" to confirm deletion of the configuration file.
Saving a Configuration file
While saving the configuration file for the first time, click "Save As" and provide name of the configuration file. The file gets saved under <Intellicus_Installation_Location>/Jakarta/webapps/Intellicus/client/config/ipackager/conf
It is always a good practice to keep saving your work. Click "Save" in order to save changes to your configuration file.
Uploading/Downloading a Configuration file
Using "Upload" option, you can browse any configuration file from your local file system and upload to the Web Server.
"Download" enables to download the configuration file from the Web Server to the browser's default download folder.