Dashboards
Intellicus 4.x dashboards are fully depreciated from 7.x onwards. Dashboards created in 4.x will not be visible in 7.x onwards. You will need to create new dashboards afresh using the same base reports used in them.
Dashboards 7.x onwards are now faster to create, compact, more intuitive and allow more interactions. Dashboard designer and Dashboard Viewer screens have been merged to single screen and a concept of widgets are introduced. The Dashboards are now designed using widgets.
System Privileges
In Intellicus 4.x, System Privileges of i) Category Setup, ii) Data Admin and iii) Batch Scheduler Administrator was applicable to global level.
In Intellicus 7.0 onwards, Super Administrator can define the scope of System
Privileges given to user at the level a) Organization or b) Global.


Figure 1: ManageUser/Role
Note: In Intellicus 7.0, System Privileges given in previous versions will be set with Organization scope. You need to change the scope to Global if the privilege for that user should be applied at system level.
Access Rights
In Intellicus 4.x or below there were separate pages for Access Control and Report Access Rights. The rights were with user as focus. The flow was:
Select a user
Select the object
Grant or revoke rights.
Intellicus 7.0 onwards the access rights pages are merged. The new flow is
Select the object
Select one of the:
Every One,
Organization or
User
Grant or revoke access rights
From this single page you can provide Access Rights to all entities: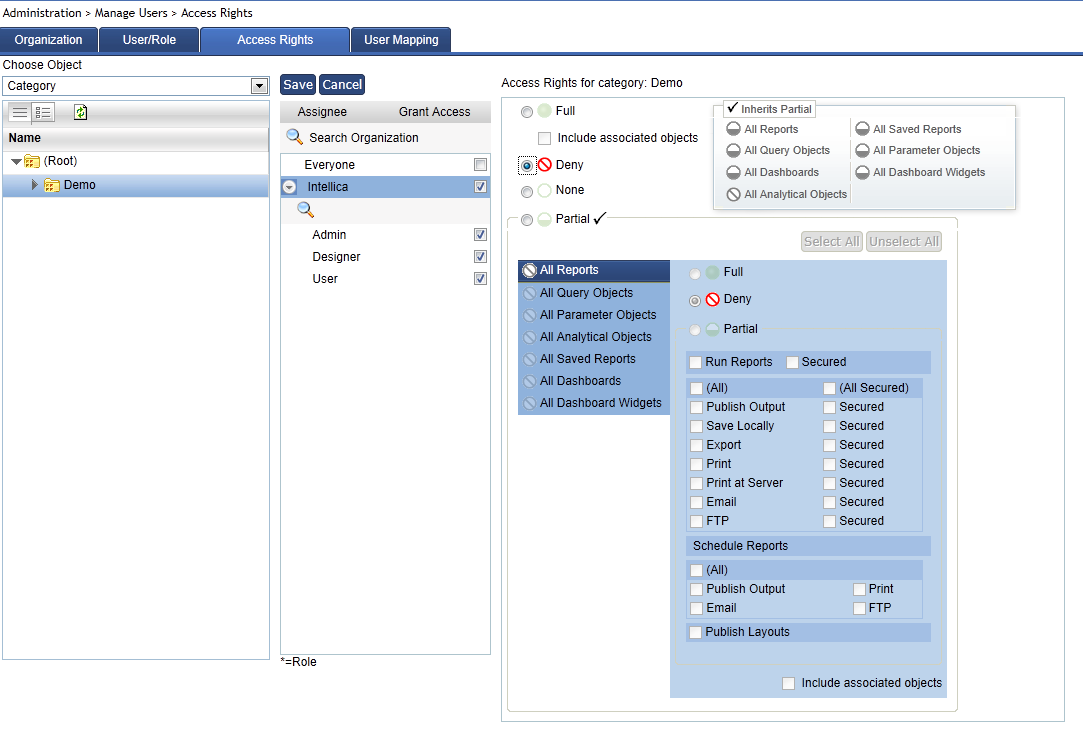 Figure 2: Manage Access Rights
During upgrading process (at first boot up run after new install), Intellicus automatically converts all previous user to report access rights to the new user access rights model. You will see all your previously set access rights in the new screen with same rights granted.
Categorization of Repository Objects
In Intellicus 4.x, categorization was available for reports only.
Intellicus 7.0 onwards supports categorization of all repository objects. Also you can create multi-levels of categories (folders).
After  the  upgrade,  the  Report  Objects  created  in  previous  versions  will  be available on the root folder. You may move these to respective folders as per your requirements.
Let us take a look at some of the system files that may help with the backup during the upgrade process.


Figure 3: Categorization of Report Objects