Once you have obtained the license for DEFA, you would be able to see the DEFA tab under Administration > Configure.
You can now register DEFA connection to connect to Intellicus Report Server.
Click the

 button to add a new DEFA instance. Provide properties as described in the DEFA Properties table and click the Save button in order to save this DEFA instance.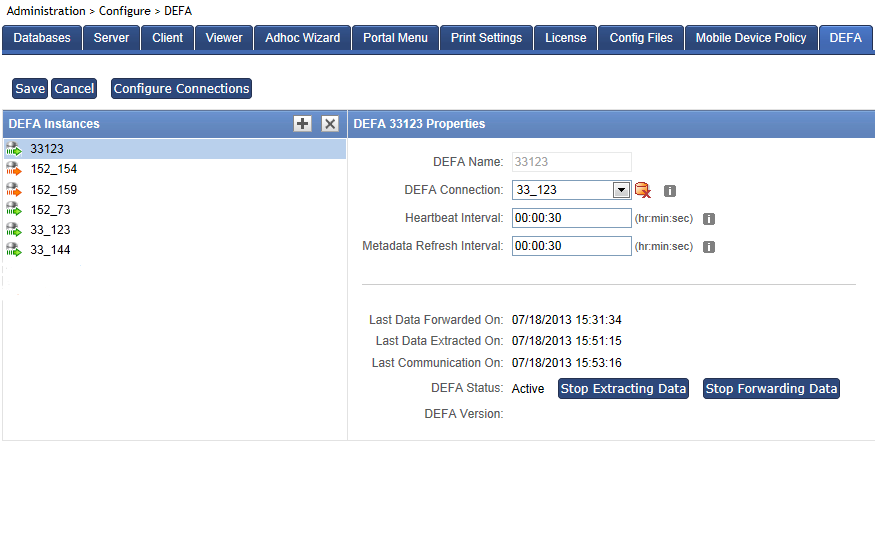 Figure 16: Registering DEFA
DEFA Properties
Property
Values
Comments
DEFA Name
Type Yourself
Name of the DEFA instance
DEFA Connection
Select from list
Connection specifications to be used by DEFA to extract data.

Select from already created connections upon clicking the Configure Connections button

Heartbeat Interval
Specify value in hr:min:sec format
Time interval upon which DEFA sends a status message of being alive to Report Server.

Default: 00:00:30

Metadata Refresh Interval
Specify value in hr:min:sec format
Time interval to sync DEFA with data extraction query details from Report Server.

Default: 00:02:00

Last Data Forwarded On
Auto-generated
Time of last data forward
Last Data Extracted On
Auto-generated
Time of last data extract
Last Communication On
Auto-generated
Time when DEFA last communicated with the Report Server
DEFA Status
Auto-generated

(Active

Inactive)

Active = DEFA is active when Heartbeat Interval + Last Communicated Time < Current Time at Report Server
DEFA Version
Auto-generated
Version of the installed DEFA
DEFA Action Items
| | |
| --- | --- |
| Button | Actions |
| Stop Extracting Data | When metadata is refreshed, DEFA would stop extracting data upon getting this information |
| Stop Forwarding Data | When metadata is refreshed, DEFA would stop forwarding data to Report Server upon getting this information |
Note: To know about DEFA step in Query Object, please refer WorkingwithQueryObjects.doc