To deploy the CAB file,
Click Navigate > Repository > Deploy Repository Bundle
The following page will open –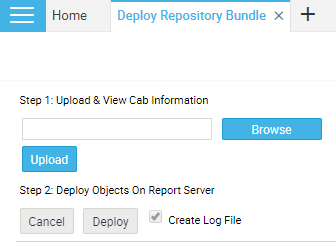 Figure 6: Deploying the CAB file
Here, Upload the CAB that you created in Step 3. Upon uploading, it will display the list of objects you had selected in the previous version of Intellicus.
Make your required selections and click Deploy.
Once you have successfully deployed the CAB, restart Intellicus service once.