If a default dashboard is specified in user dashboard preferences, then this dashboard opens in view mode (To know more about Preferences, please refer "Managing dashboard's default view" in Designing Dashboards section). As an end user, you can see a default dashboard on logging into application as shown in Figure 2. You can also navigate to preferred dashboard by following the path – Navigate – Analytics – Dashboard.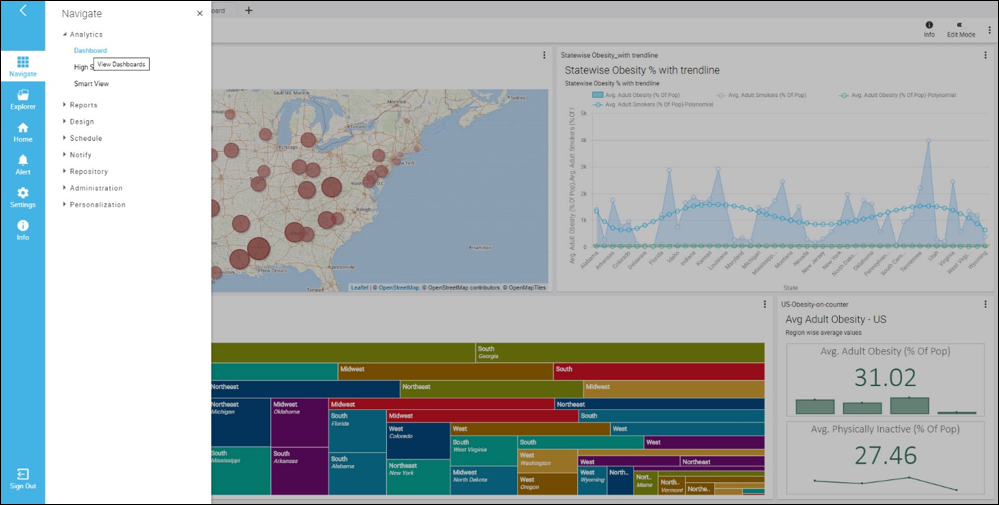 Figure 2: Viewing Dashboard
While viewing the dashboard, you can choose how the widgets should appear on the dashboard.
Under Dashboard Menu

(View Mode) in upper right corner, you have the following options:
You can click Unpin/ Pin Title to unpin or pin the dashboard title.
Clicking Reload restores the dashboard to its last saved state.
The Help option would enable you to view the online help regarding dashboard properties.
Under Menu

in the Dashboard Widget title bar, you will see the following options:
Click Maximize (or double-click the widget header) to maximize the widget. When you maximize a widget, it gets spread across the entire viewer area. Alternately, you can click Restore to reset the widget to its original state.
With Pin Header, you can pin the title bar
Reset will reload the dashboard to its last saved instance
If you have chosen to show filters, below the dashboard widget title bar you will see a filters tab. You can apply preferred filters from here. From the menu option you can also export the report in the widget in a desired format.
When you click the menu icon

 on the widget view, you can perform the following:
You can Maximize the view inside a widget
Drill Level Up/ Drill Level Down lets you drill down or drill up the report view in the widget.
In case you have a parameterized report on dashboard, you can change selection of values on the applied parameters while in the View mode. Refer the "Filtering data on a dashboard" section to know about the various filtering options.
Click Info icon

on main menu at the top of the screen to view the Dashboard information. This can be set under Settings in the Edit Mode.
At any time, click

to switch to the Edit Mode to design the dashboard. We will discuss designing dashboards in detail in the next chapter.