Use this delivery option to generate the report in desired output format and upload it to an FTP server or a shared network location.
Report output will be generated in the selected Report Format and Upload Options. If desired, change the report format.
Depending on the selected output type, you can select Upload Options for the report. For example, to zip the file before publishing, ignoring page breaks, options specific to CSV or MS Excel output, etc.
Uploading the report on FTP Server
This is the desired option to upload the report on your web site and make it available to web site visitors.
In Upload Type, select FTP option.


To upload report on a secure FTP server, select Secure or Use PASV mode radio buttons. Intellicus uses Secure Shell Protocol (SSH) protocol (TCP port 22) to provide secure file transfer.
Most of the FTP Servers use Passive mode. Deselect Use PASV mode if you are sure that the FTP server does not use Passive mode.

Figure 11: Uploading a report output to FTP server
Server Name, where to FTP and File Name for the uploaded file is mandatory information you need to provide. You may specify server name as URL (for example, coname.servername.com ) or as IP address (for example, 290.340.1.98 ).
Specify Port value if the server listens to a port other than universal port (21). If you are sure that the FTP server needs user authentication, specify User Name and Password to login.
Specify Folder Name, to upload the file in a folder other than root. For example, /reports/hr/branch01.
Specify the report File Name which is uploaded in the folder.
Saving in a shared folder
Use this option to save the report in a shared folder on a network location. Users can open that folder and view the report output stored in that folder.
In Upload Type, select Shared Folder option.
In Folder Name, specify the network path in UNC format (\\computername\folder) where the report should be placed.
In File Name, specify the name for the report file. This is a mandatory field.
In both above, you have option to UPLOAD NOW or UPLOAD IN BACKGROUND.
To upload the report and view the result (like success or failure), click UPLOAD NOW. You will be redirected to a Report Status screen, which will display the status message. Click UPLOAD IN BACKGROUND to start the process and continue working with the application without having to wait till the operation is complete. The operation will continue in background and you will be redirected to Report Execution Status screen. It displays execution status of all the reports executed in background.
Cancel Request
When report execution starts, "Processing…" message appears on portal screen.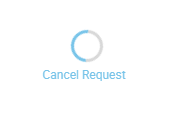 Figure 12: : Cancel Request
Click Cancel Request hyperlink to cancel the report execution.
In case of an error
In case the requested operation is not completed, Intellicus displays an error page.
The error page is designed to contain the entire sequence of the errors that resulted in the final error.


Figure 13: Error page having error numbers
In case the cancellation is not successfully completed, an error page appears with the entire sequence of the errors that resulted in the final error.
Click Details to get more information and resolution.
Repeat request of report execution
Repeat request is considered when:
Execution of a report is currently under process, and
You have again requested execution of that report with same operational and (if there any) user parameters.
Depending on application configuration any of the following may happen:
Execution continues and another request is also processed.
Execution continues and another request is rejected.
Execution continues and you are prompted to (1) Cancel currently running request and start executing new request, or (2) Cancel new request.