While designing, you can set the properties that you wish to apply to the dashboard. You can edit the dashboard name and description along with the following properties when you click the Settings icon

.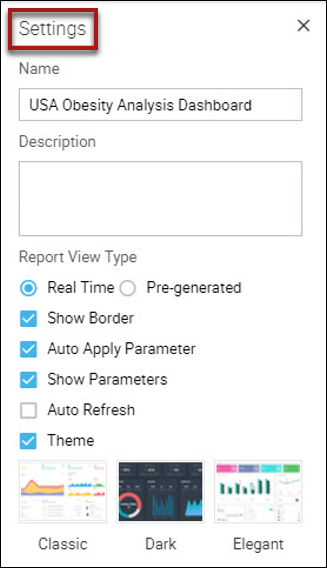 Figure 13: Dashboard Settings
Other options available under Settings include:
Report View Type: You can choose to select the report view type as Real-Time to execute a report when you view the dashboard. Select Pre-generated to view reports already executed and published on the dashboard.
Show Border: Select Show Border to enable whether you wish to see the widgets on the dashboard with borders.
Auto Apply Parameter: Check this option to automatically apply parameters on selecting parameter values. You need not explicitly click the Apply button to apply multiple filter values.
Show Parameters: Check/uncheck Show Parameters to show/hide the parameter pane on the dashboard.
Auto Refresh: To auto-refresh a dashboard at a regular interval, check the Auto Refresh checkbox and specify time in seconds. This will automatically refresh the dashboard after the set number of seconds.
Theme: As an administrator, you can upload template files to apply a custom color theme to your reports on dashboard if this checkbox is checked. The theme can be edited using the configuration screen under Administration > Configure > Config Files. The dashboard themes have configurable properties like the background image, background color, widget opacity etc.