When Intellicus is installed and run for the first time, it uses default configuration. Let us discuss properties related to configuration of Report Server and Client (portal) as well as how to configure email templates and how to customize configuration files.
Configuring Report Server
Report server's configuration is achieved by setting properties associated with it. This is done on Server page of the portal.  You need to have Super Administrator privileges to be able to configure properties in Intellicus. To open Server page, click Navigate > Administration > Configure > Server.
The information captured on this page is stored in "ReportEngine.properties" file under path IntellicusReportEngineConfig. As an alternate option to this page, system administrator can edit the properties in the file directly. Report Server will require a re-start to assume new values, in case the properties are changed in the file directly.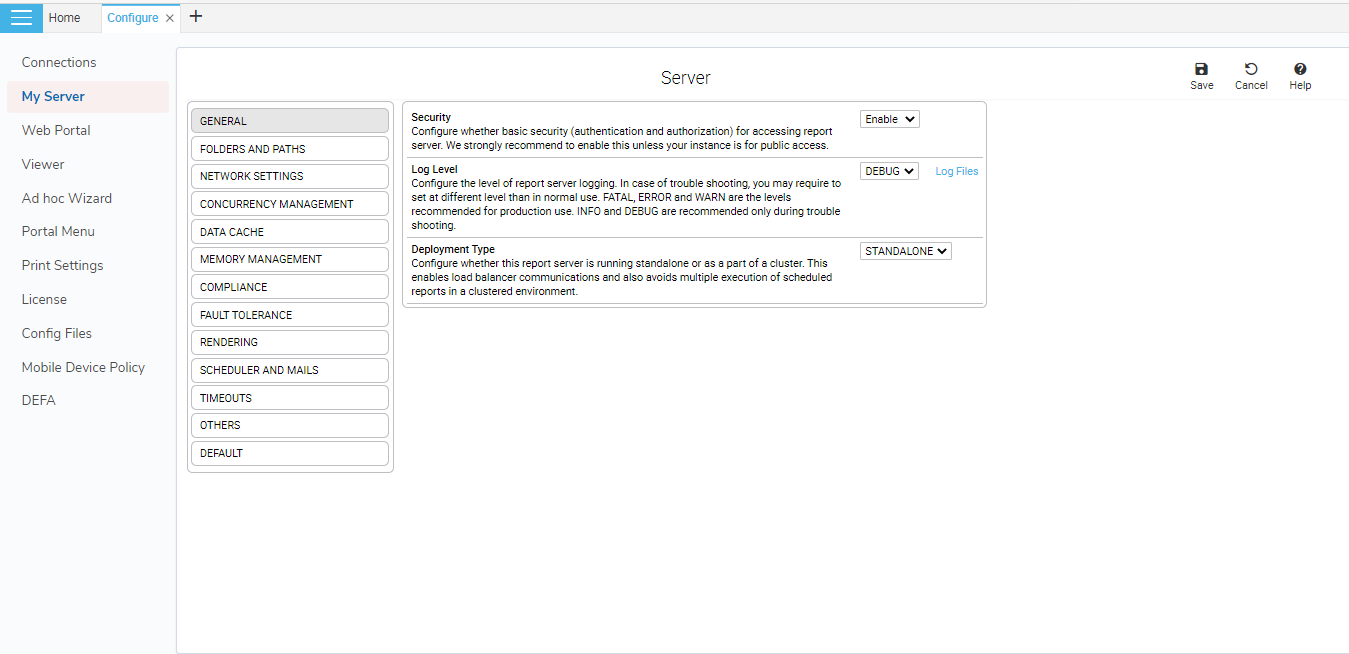 Figure 1: The Server configuration page
The page as shown in Figure 1 lists all the properties for server configuration.
Accessing this page when Security= false
If Intellicus is running under security disabled, specify following URL in the browser's address bar to get this page.
http://localhost/intellicus/conf and then click Server tab.
The Property Details
Important: Properties listed on this page appear here because they (as well as the possible values) are available in ReportServerProperties.xml file at path: <Intellicus installation path>IntellicusReportEngineConfig.
If you don't find a property here, make sure it is rightly defined in ReportServerProperties.xml file.
If you don't want a property to appear on this page, you may comment it in the file.
The properties are listed under related sections.