After you have created the dashboard widget, you may want to save it for future use or share it across with other users. To save the dashboard widget with a unique name, click the Save As button under the dashboard widget menu ellipsis. When you Save As an existing dashboard, you can save that dashboard widget with a new name.
Click Save (available on the Dashboard title pane) to save changes to an existing dashboard or save a new dashboard widget with a name.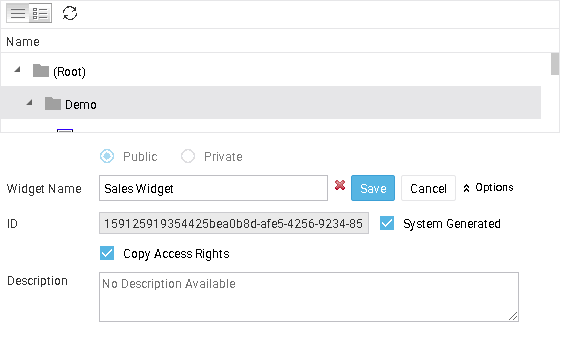 Figure 11: Save Dashboard Widget As dialog
A dashboard widget is saved in a folder. Folders are available as multi-level structure in the repository.  Navigate to the folder in which you want to save the dashboard widget.
At the time of saving, you need to provide a unique Widget Name. Along with the layout name application also saves Owner (the organization and user ID who created the dashboard widget) and Last Modified Date.
Click Options next to the Save/Cancel button to see the ID and Description options. Each dashboard widget has a unique ID.  By default it is system generated. To provide self-defined unique ID, uncheck "System Generated" checkbox and specify the ID.
If you are an administrator user or you have specific rights on the dashboard widget, you can copy access rights from Administration > Manage Users > Access Rights by checking "Copy Access rights" checkbox.
Select Public to make this dashboard widget available to all the users. Select Private to make sure only you are able to access this dashboard widget. If you are a super administrator, you can set a dashboard widget as public, which will be available to all users of all organizations. If you are an administrator, a public dashboard widget will be available to users of your organization. If you are an end-user having access privileges required to create a dashboard widget, you can create only private dashboard widgets.
In Description, specify information about the dashboard.
Click Reset on the main menu to reset the widget to its last saved state.