As an End User, you can view the already designed high speed report layouts in the View Mode. You can go to Navigate > High Speed View and click the Open button 

to open an existing high speed report. Alternately, go to Explorer and either double-click or right click the report > choose the View Report option. You can toggle between Edit and View modes by clicking 

icon.
You can perform the below operations on a view by clicking the menu icon 

on the upper right corner of the view:
Maximize/Restore: To maximize a selected view to spread across the entire analysis area. You can also restore it back to original size. Alternately, you can double-click the view header to maximize or restore the size.
Set Selection as Filter: To set the selected data in a view as filtering criteria under Filters as discussed under the section "Filtering Data on High Speed View").
Drill Up Level: To drill up through hierarchies of a dimension.
Drill Down Level: To drill down through hierarchies of a dimension.
Clear Selection: To clear the selected data on the analysis area.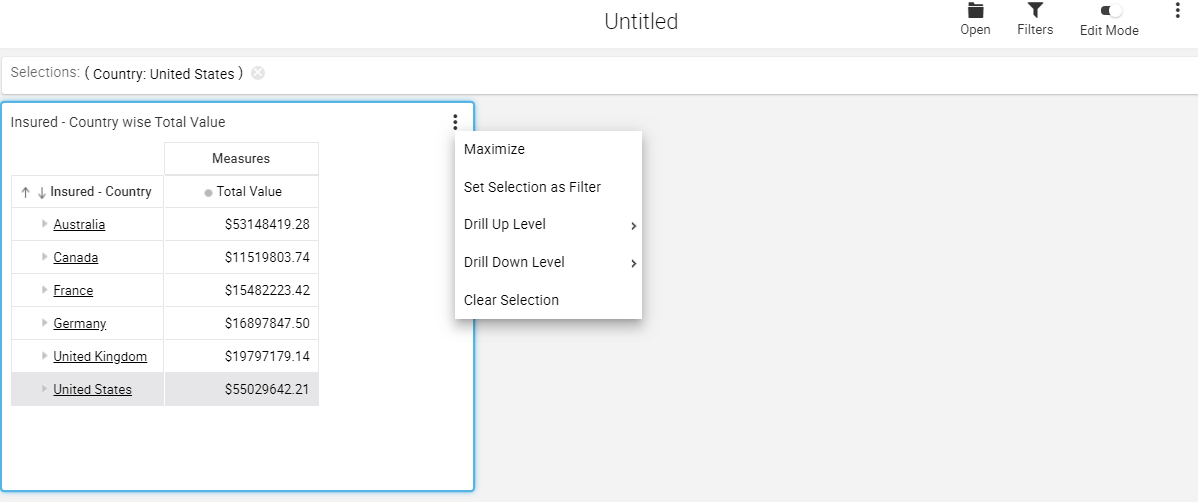 Figure 38: High Speed View in View Mode
You can apply as well as change the filtering criteria on your data while in View Mode for analysis. However, you cannot save these changes.
The operations like Expand/ Collapse can also be performed on crosstab and charts (as discussed under Designing High Speed Reports > Interacting with Crosstabs and Interacting with Charts respectively).