You need to specify a data source to generate a smart report. The data source could be either RDBMS, file or web service based. Data sources are created through query objects in Intellicus. A query object contains details to fetch desired data from a data connection.
To select a data source on Smart View, you may:
Navigate to the desired folder and select a Query Object by double-clicking or
Create a new Query Object by clicking Create Query Object or
Open and work with an existing report layout by clicking Open Existing Report from the top right corner Open button
The operations available on the Select Data Source screen are listed below.
Action Items
Item
Comments
List View
Shows the list of data sources
Detailed View
Shows the detailed view of data sources list.

You can see details like the 'Owner' and the 'Organization Name' of data sources

Search
You can quickly search the desired data source from the shown list. The Search icon appears with a right tick after you have entered any text in Search textbox.

The option of Server Search enables to specify search criteria on all categories available at the server end. For example, you can search a category name matching the specified criteria

Show Search Result
Shows the entire search result (fetched from client as well as server). Click Show Entity Selector button to go back to select data source screen
Refresh List
Refreshes the shown list of data sources
Selecting the data source opens the Design Mode to help you design a smart report. By default, the sample data set is loaded into a grid picking first 10 fields (columns) and 200 records (rows) in case of larger datasets for preview.
You can select the option 'Load Complete Dataset' upon clicking the down arrow next to the Data Source name (in bottom left corner) to view the entire data set. Ideally, we don't need the entire data set at design time which may slow down the system. Hence, Intellicus loads only a sample data set to start with.
You can edit the report name by double-clicking the default name which is "Untitled Report".
The Smart View may include the following visualizations under various tabs: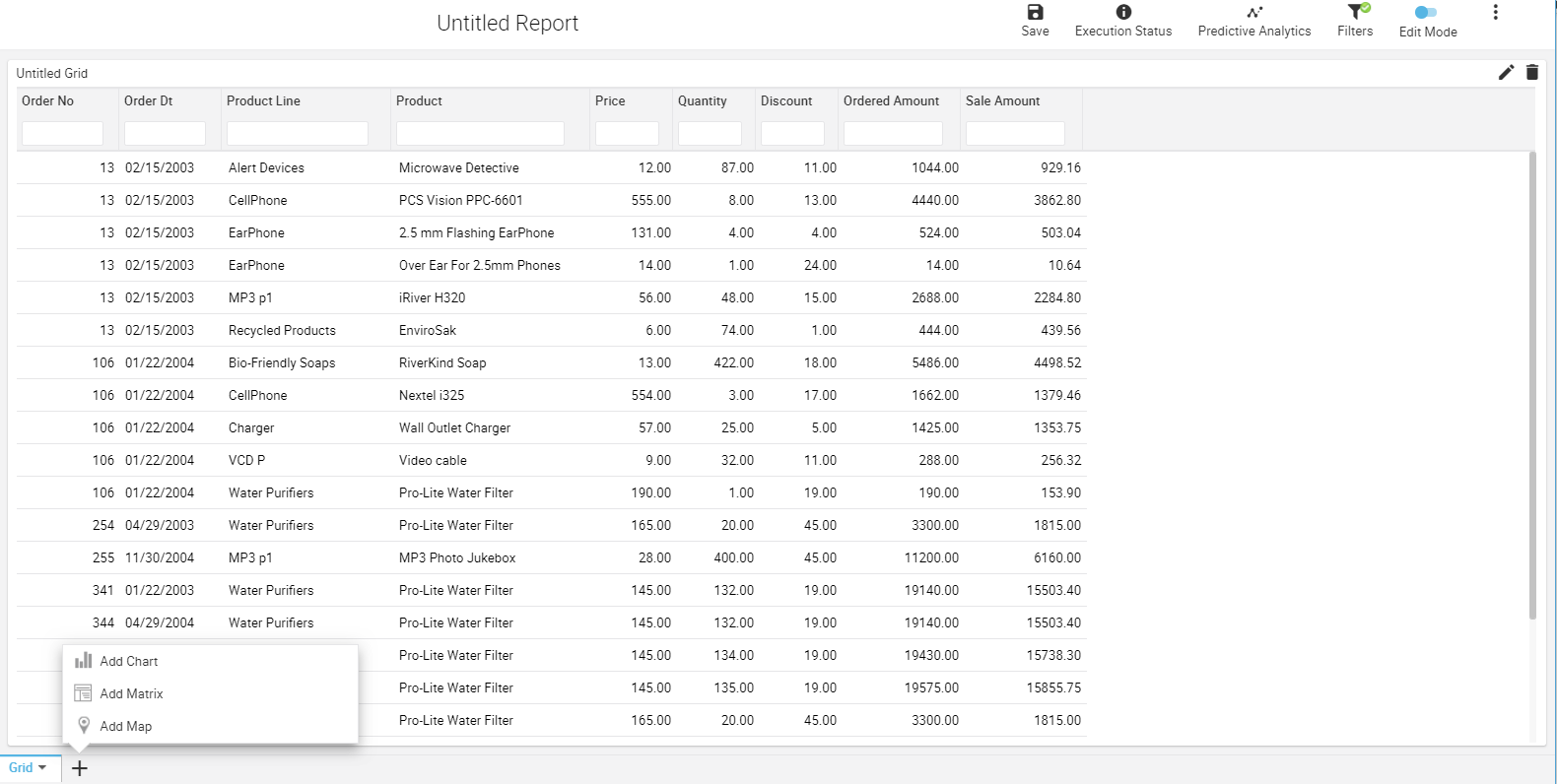 Figure 21: Smart View – Tabs
Click the Add

 icon located at the bottom-left corner to add various visualizations in your report.
Let us look at each visualization and the related functions that can be performed on the smart view in the Design Mode.
For report outputs of each function as applied to grid, chart, matrix or map can be referred under the Viewing Smart Reports section.