Intellicus lets you personalize the content and functionality within the portal for specific users or user groups. You can define your default and preferred settings for the Intellicus portal under personalization. Setting up default database connection, changing password, portal theme, preferred email, setting default report format, choosing dashboard(s) to display on login etc. is what you can achieve from here. You can also set default selection of parameter values when you run reports.
Click Navigate > Personalization > Preferences. The My Preferences for Admin screen appears if you are logged in as an administrator.
Personalization preferences are organized in the following tabs:
User Preferences
Parameter Preferences
Dashboard Preferences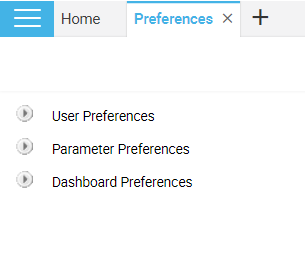 Figure 1: Personalization menu
End Users/ Designers can set preferences for Users, Parameters, and Dashboards. There are some personalization preferences that are visible only to administrator users in Intellicus.