On Intellicus screen, click Explorer and select Report under object type. The list of reports appear.
Right click on any standard report and select Run Report. The Report Delivery Options page appears.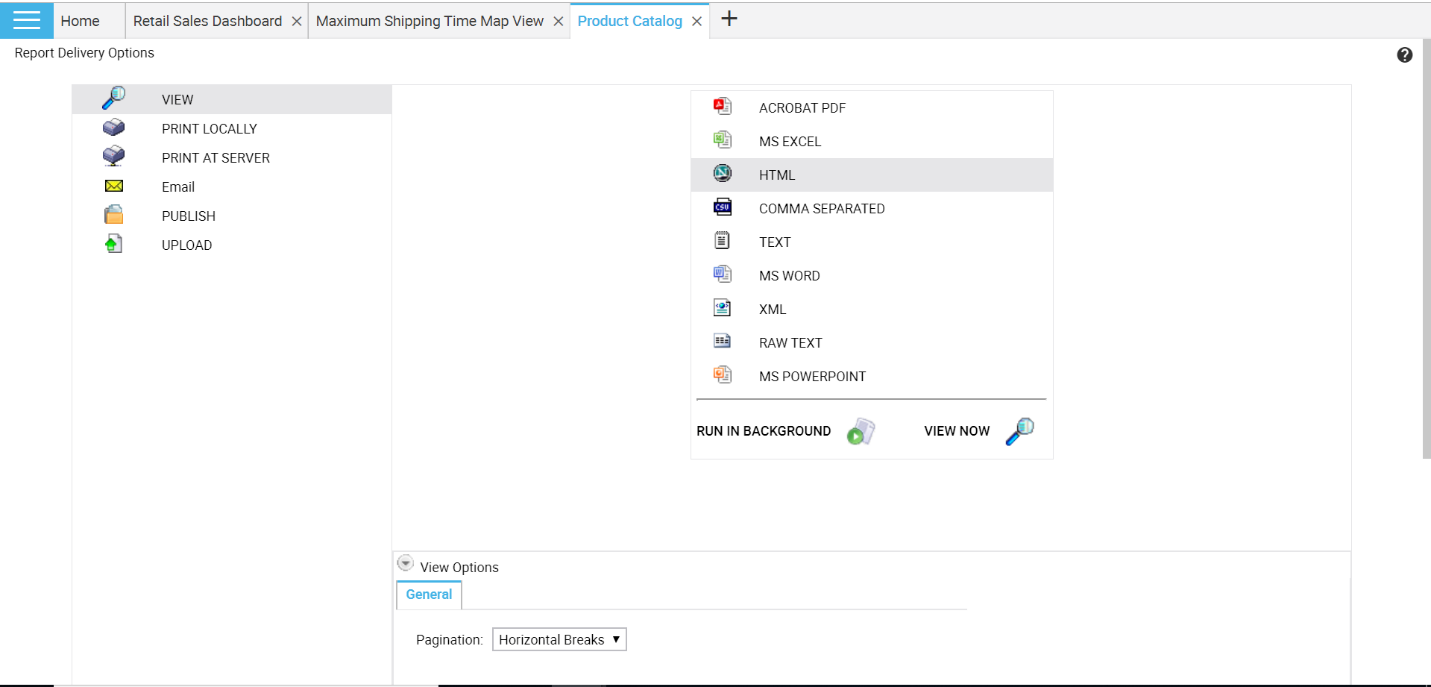 Figure 5: Report Delivery Options page
From this screen, you can view report on-screen in selected output format, print it locally or on printer attached to the server as well as Email, Publish or Upload a report.
When a report is executed, application can cache its data so that next time when the report is executed with same parameters, it can run with cached data. This method improves performance. If Data caching feature is turned on, Refresh Data check box appears. De-select the check box to use cached data (if cached) to run the report. Check the check box to get the data from database server and run the report.
To get report data, a report connects to the default database. If desired, you can connect to any of the database connections accessible to you by selecting it from Connection dropdown box under Connect to area.
Note: If selected connection needs user credentials at run time, User Name and Password entry boxes appear. Specify user name and password required to connect with selected database and click the Test. If the connection is established successfully, Connection Test Succeeded message appears.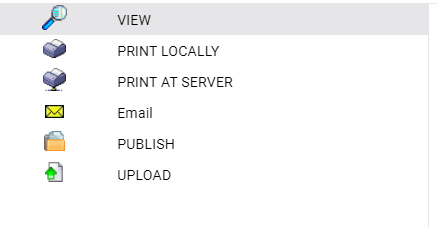 Figure 6: Output options for Standard Reports
View (on screen) in selected format
You can view a report in any of the following formats:
ACROBAT PDF: To get output in Adobe PDF format.
MS EXCEL: To get output as an MS Excel file.
HTML: Web page (HTML format).
iHTML: Web page (iHTML format).
COMMA SEPARATED: Delimiter (Generally comma) separated file.
SMART: To get output as a Smart file.
TEXT: To get output as a text file.
MS WORD: To get output as an MS Word file.
XML: To get output as an XML file.
RAW TEXT: Comma separated file having only headers and data values just as received from database.
MS POWERPOINT: To get output as an MS PowerPoint file.
Note: Some of the report formats will need the workstation to have respective Viewers. For example, PDF format needs Adobe Reader to view the report.
Depending on the selected output type, you can select View Options for the report. For example, to zip the file before publishing, ignoring page breaks, options specific to CSV or MS Excel output, etc.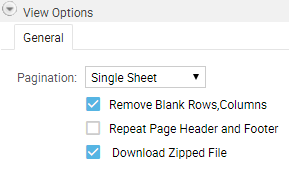 Figure 7: View Options for View as MS Excel file
Click VIEW NOW to run the report and view report output immediately. If the report has huge data-volume, it may take some time to generate entire report. If this is the case, click RUN IN BACKGROUND to start report-execution and continue working with the application without having to wait until entire report is generated. Report execution will continue in the background and you will be redirected to Report Execution Status screen with the execution status of all the reports that were RUN IN BACKGROUND.
Note: RAW TEXT report is made available as a file with .csv.zip extension. It needs to be decompressed using an application with which .zip file type is associated.
If you click Run in Background, Report Execution Status screen appears. On this screen, click Refresh to view the status of the report being executed in background.
Printing Locally
From Report Delivery Options screen, the report can be printed on to the local system or directly printed through a printer.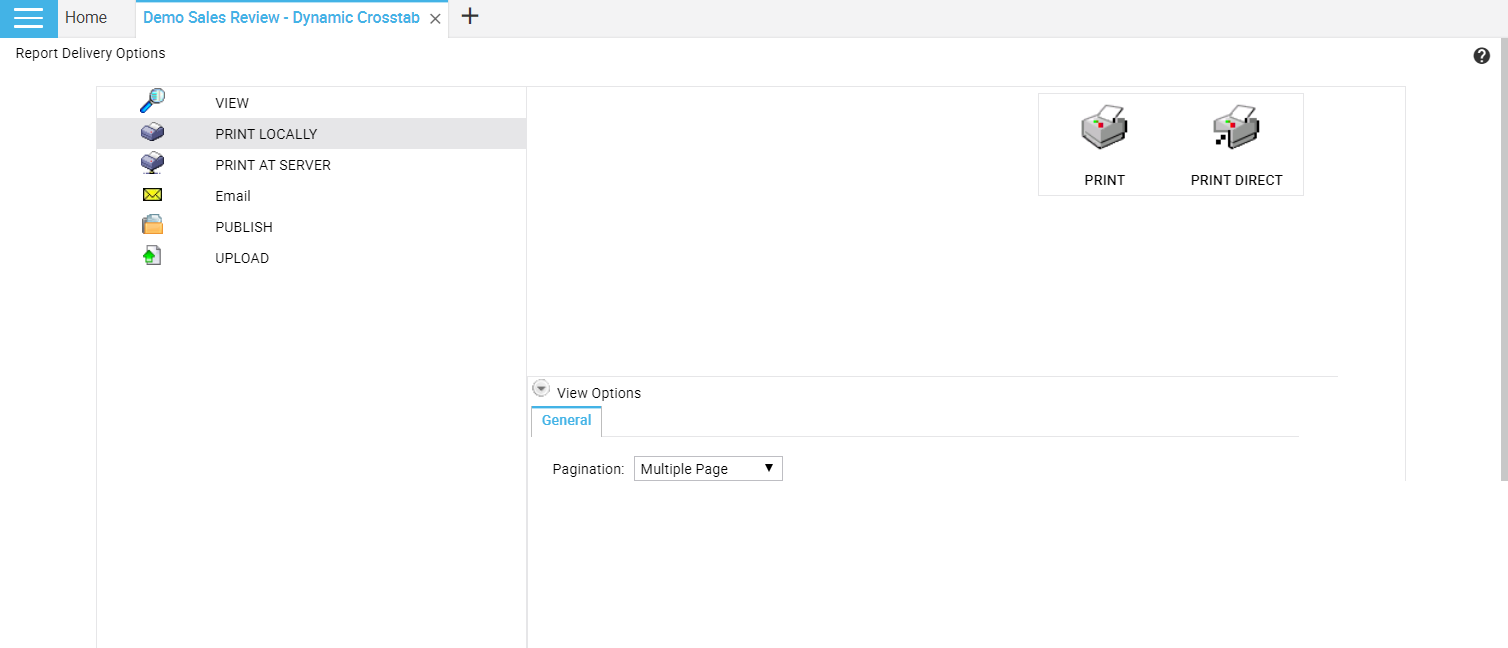 Figure 8: Printing report at server
Print: Specify the print preferences.
Print Direct: Select to print directly.
Printing at Server
From Report Delivery Options screen, the report can be printed to a printer attached to the machine where Intellicus Report Server is running.


Figure 9: Printing report at server
Name: Select the printer name on which the report should be printed.
Click the Printer Setting

icon.  A small window appears, listing the print settings related to printers installed on the machine, where the Report Server is running. Select the setting you want to use. Other information is filled in based on the settings done by the administrator. However you can change the information.
Paper Source: Specify the tray preferences.
Page Range: Select All to print all the pages.  Specify page number(s) in Pages separated by comma to print selected pages.
Number of Copies: Specify the number of copies for the report.  Specify Collate preference.
Note: Status of a report executed in background can be viewed on My Reports screen.