This chapter has information and steps to get you started with installing and evaluating Intellicus in the quickest way.
Downloading Intellicus
To acquire Intellicus setup, you can either contact our support team (support@intellicus.com) or download evaluation version from the web site: www.intellicus.com
Before you install
Here are a few points to be noted before starting the Installation:
Operating System
Intellicus server and portal can be deployed on most of the popular Operating Systems. Instructions provided in this manual are for Windows platform.
Server Port
By default, Intellicus report server listens at port 45450. If this port is busy on the machine where Intellicus is being installed for evaluation, you can specify a different server port at the time of Installation.
Intellicus Portal
By default, Intellicus runs on Jakarta tomcat web server at port 80. If this port is already used by another application, you can specify a different portal port for Intellicus at the time of installation.
Note: You will receive "HTTP 404 error: Page not found" message in the browser;
when Intellicus portal does not start up because port 80 (or the one allocated to web server) was used by another application.
Installing Intellicus
Intellicus setup for Windows is made available as 'Intellicus_win.exe' file. To start installation, you need to double-click this file.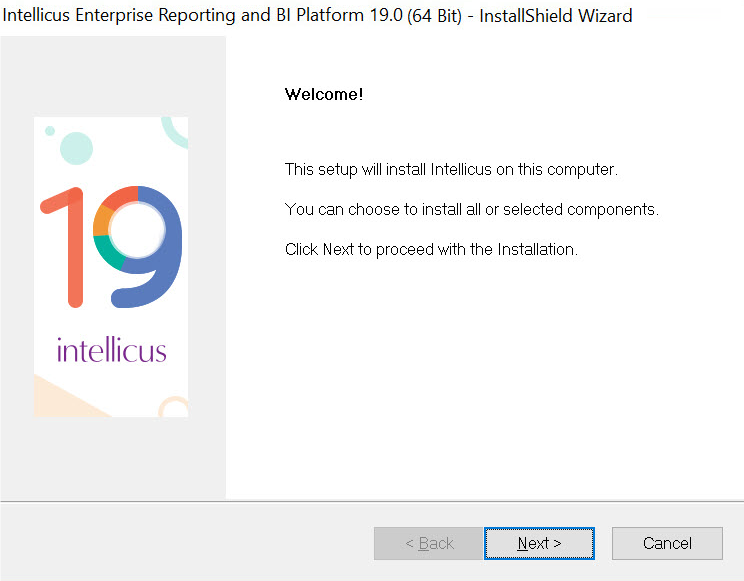 Figure 1: Welcome screen displayed upon running setup.exe
Click Next on screens to install Intellicus with default configuration:
Installation folder: C:/Program Files/
Server port: 45450
Web Server: Jakarta tomcat
Portal port: 80
Timeouts: 600 seconds
Note: As part of installation steps, you will be allowed to change above information.
In the last step of Installation, setup asks if it should start Intellicus Service and Launch Portal.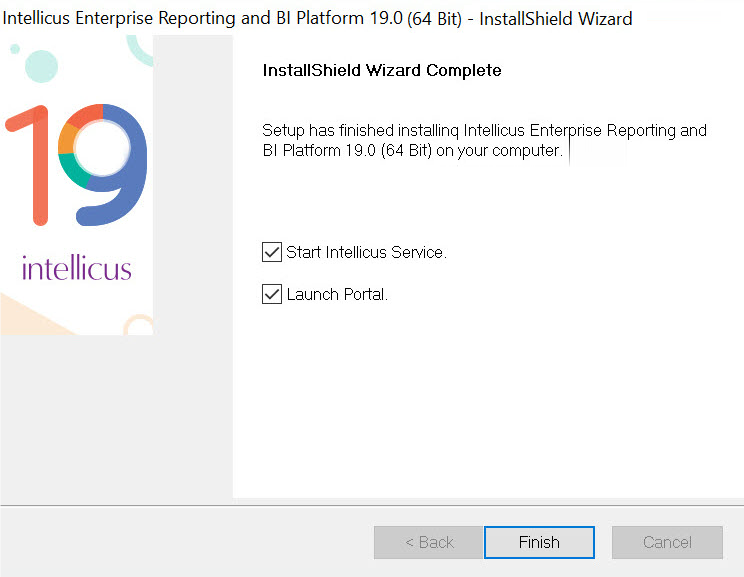 Figure 2: "Installation Complete" screen
Launching Intellicus Portal
Intellicus provides browser based user interface. Specify following in your browser's address bar to launch Intellicus when it is running on local machine:
http://localhost/intellicus
When Intellicus is running on a remote machine (in the same network as the local host), the URL will be:
http://(ip of the machine)/intellicus
Below are the default credentials provided by Intellicus:
User Name: Admin
Password: Admin
Organization Name: Intellica(Click "More Option" if you wish to select any organization other than the default.)
Intellicus' demo setup has three pre-defined user roles:
Administrator: Super admin user will be able to carry out all configuration and administrative activities of the application across all organizations
Designer: User who can design standard, ad hoc and smart reports on permitted databases/ data sources
End User: Business user who can view the already designed and saved reports to which he/she has been allowed access permissions
To explore and evaluate all the features of Intellicus, login using Admin / Admin user name and password combination. The below screen enables you to login to the application.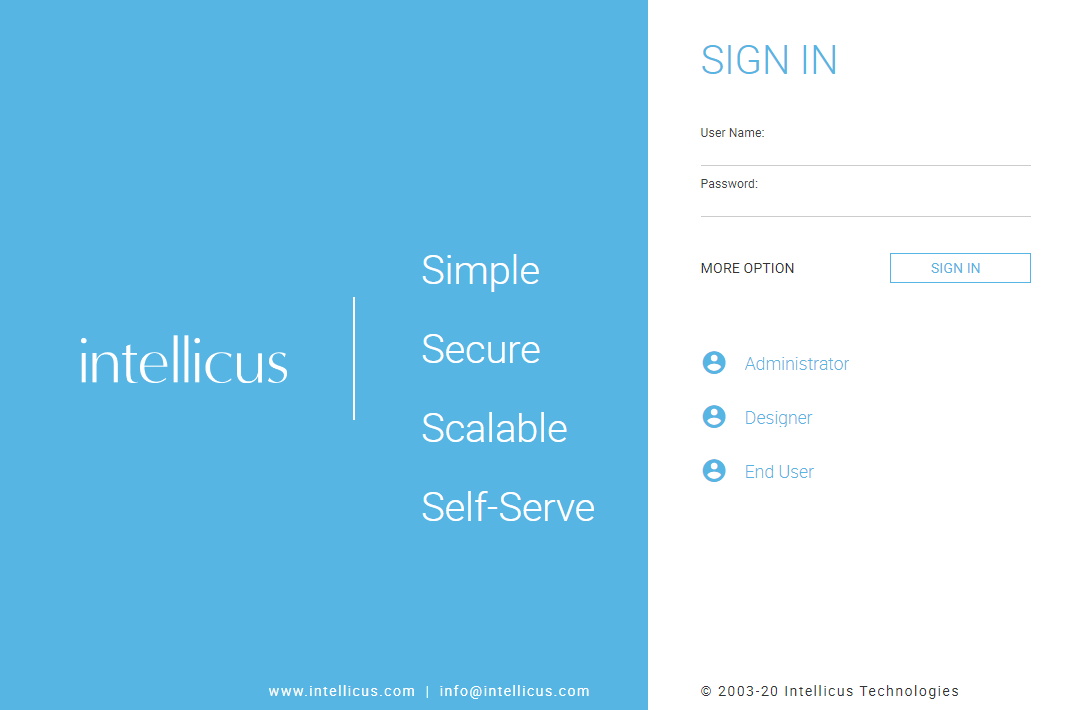 Figure 3: Intellicus login page
Creating the ROOT folder
To launch Intellicus, without using /intellicus in the URL (as specified above), follow the below steps to create ROOT folder environment of Intellicus:
Stop the Report Server and the Web Server if running
Take backup of Intellicus
Delete '<INSTALL DIR>jakartawork' folder
Go to <Installed Path>Intellicusjakartawebapps
Rename the "intellicus" folder as "ROOT"
Note : "ROOT" is case sensitive. User needs to provide this name as it is.
Go to Tomcat server settings at
<Installed Path>/Intellicus/jakarta/conf/ and edit the "server.xml" file
Comment as shown below:
<!– This tag is added to avoid session persistence mechanism
<Context path="/intellicus" docBase="intellicus">
<Manager pathname="">
</Manager>
</Context>–>
 Save the server.xml file
 Start the Report Server and the Web Server
 URL for the updated setup now is: <%http://IP:PORT%>
for example : http://x.x.x.x:8080/
Changing the port number
Below is the information on how to change the port number when Jakarta Web Server is used.
The port number information is stored in server.xml file.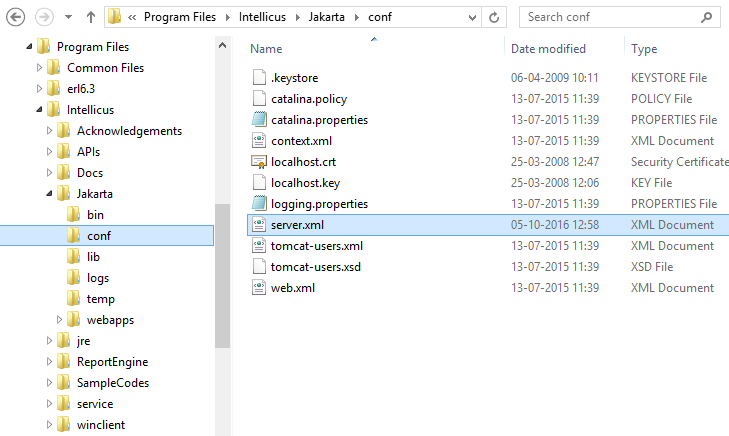 Figure 4: Location of server.xml
To change the port number:
Open server.xml in a text editor.
Change the value of Connector port to a number that is free.
Save the changes.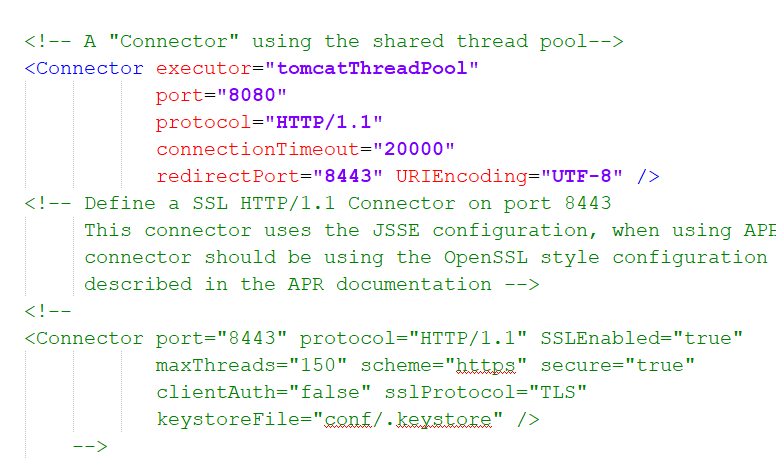 Figure 5: Changing the port number
After successful login, the following Home Page appears: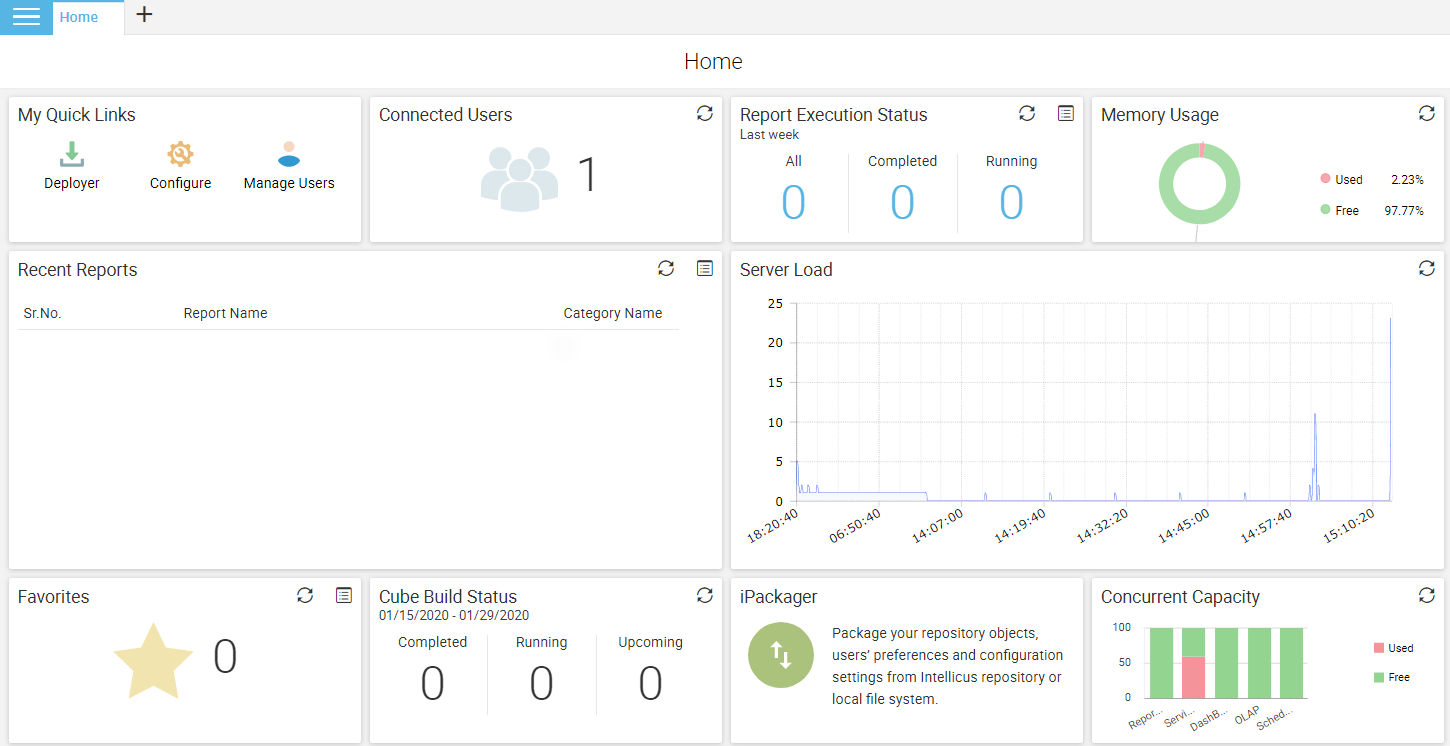 Figure 6: Homepage for the Admin user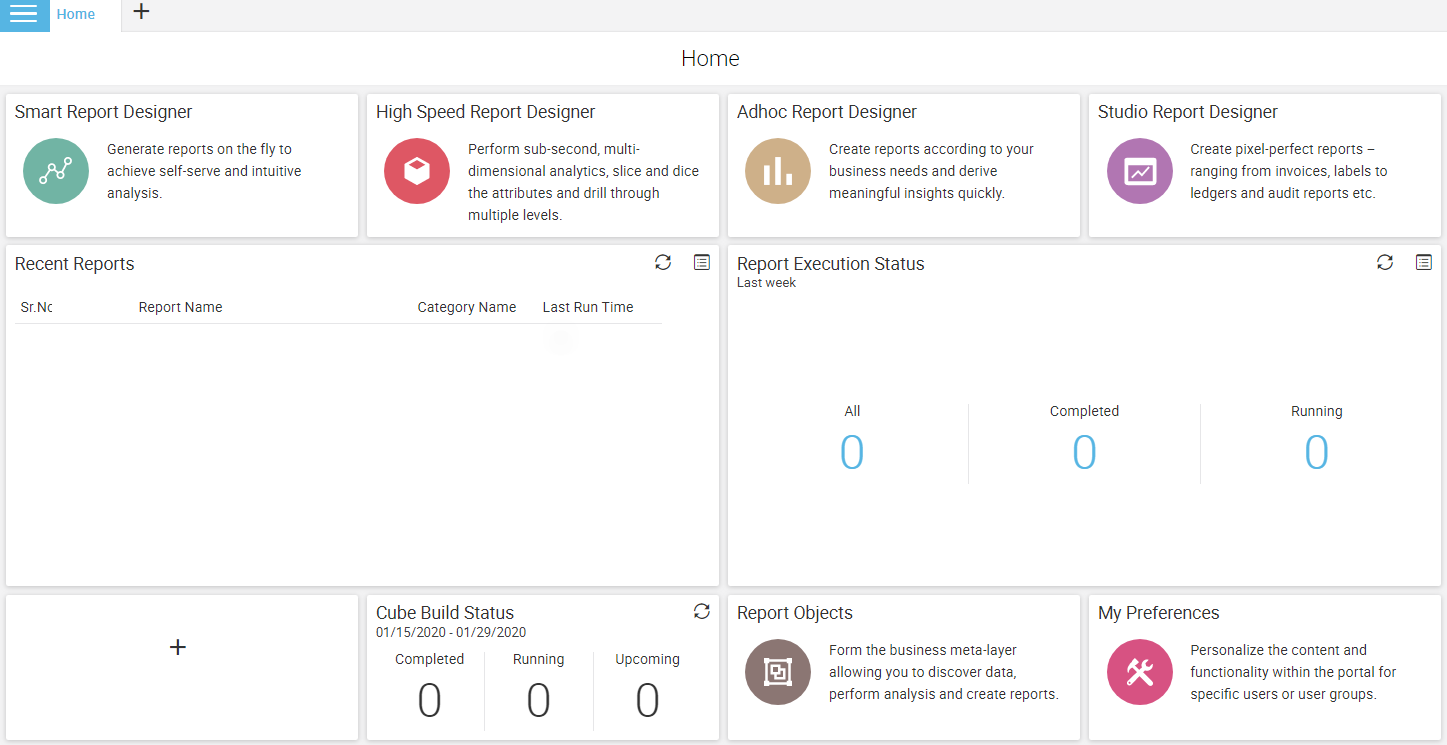 Figure 7: Homepage for the Designer user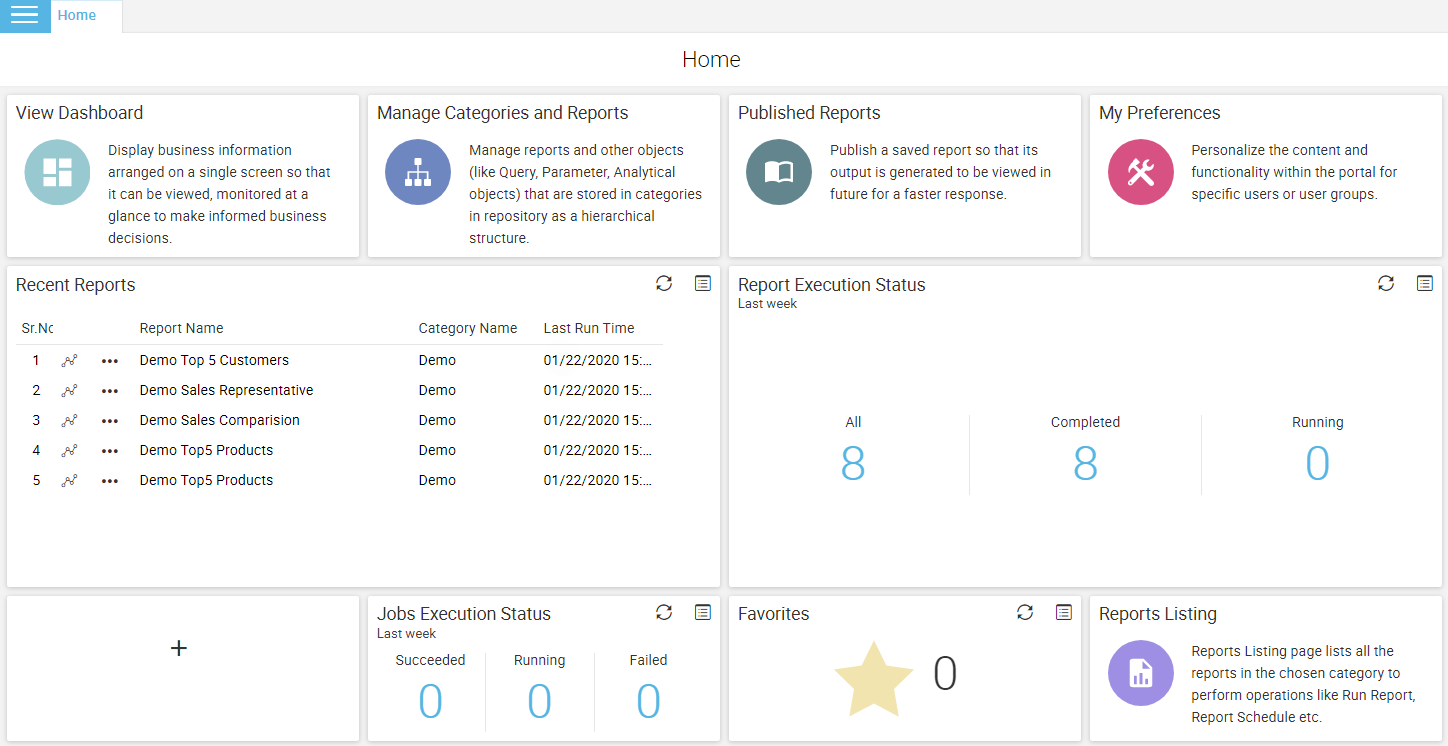 Figure 8: Homepage for the End user
What to do next
Intellicus demo installation includes a limited demo data which you can use to get a feel of Intellicus features.
Explore what you can do on portal
Listed below are some of the portal pages you may wish to explore.


Figure 9: Intellicus Menu
Query Objects /Data Sources: Navigate > Design > Query Object
Query Objects form the business meta-layer for end user reporting. Query Objects hide the physical database details, SQL complexities, table names etc. from the end user.
A query object contains details to fetch desired data from a data connection.  A query object acts as a data source to reports, parameter and analytical objects.
(For details, refer Working with Query Objects)
Smart Report: Navigate > Analytics > Smart View
A self-service tool to design reports with drag and drop actions for performing on-the-fly operations.
Get contemporary style of web controls like dynamic data grids and various charting options for data depiction.
(For details, refer Configuring Ad hoc Reporting, Working with Smart View)
High Speed Report (OLAP Reports): Navigate > Analytics > High Speed View
Intellicus' evolved multi-dimensional analytics to let you explore your data from all dimensions in a single screen to get a panoramic view of your business at the speed of your thought.
(For details, refer Working with High Speed View)
Ad hoc Reports –customization and report design: Navigate > Administration > Configure > Ad hoc Wizard, Navigate > Design > Ad hoc Template, Navigate > Design > Ad hoc Report, Navigate > Analytics > Smart View
Ad hoc reporting feature brings report design functionalities from designers to the users. Users can not only view report output, but also study and analyze the output by carrying out many analysis activities like sorting, grouping and filtering the output without returning to the designer screen.
(For details, refer Configuring Ad hoc Reporting, Designing Ad hoc Reports)
Running Reports: Explorer > expand category > right click the report > select the Run Report option
Intellicus provide facility to run a report in different formats. Apart from this you can also schedule (using Quick Schedule and Batch Scheduling option) and view results later.
(For details, refer Running Reports In Intellicus, Batch Scheduler)
Dashboards: Navigate > Design > Dashboard Widget, Navigate > Analytics > Dashboard
To visualize your business data at a glance, monitor overall performance and make informed business decisions.
(For details, refer Creating Dashboard Widgets, Working with Dashboards)
Batch Scheduler: Navigate > Schedule > Jobs
Scheduling of reports is very helpful for better utilization of server and printer resources.
(For details, refer Batch Scheduler)
Configurations: Navigate > Administration > Configure
You can configure properties related to Report Server and Client (portal) as well as configure email templates and customize configuration files.
(For details, refer Configuring Intellicus)
Favorites: Explorer > expand category > right click the object > select the Add to Favorites option.
Standard Reports: Intellicus standard reporting enables you to create pixel-perfect, form style and printable format reports to support your organization's operational tasks. An enterprise-grade scheduler and dispatcher of Intellicus helps you distribute the soft copies to thousands of users without manual intervention.
You need to use Intellicus Studio to design and deploy standard reports.  In Windows, click Windows Start > All apps > Intellicus > Studio to start the Studio application.
(For details, refer Desktop Studio-A Tour)