Click anywhere on the job row to open and modify the job details.  When you click the horizontal ellipsis button

 in the job row, menu opens.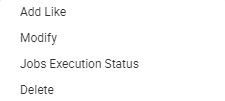 Figure 3: Menu options
On menu, click Add Like option to create a job having all or most of the details same as the selected job.  When you click this option, Job Details page opens having the details filled in like that of the selected job.  To add a new job, change Name and other information that needs change.  This way, you not only reduce chances of entry errors, but also save time in adding the job.
To modify the selected Job, you may also click Modify option from the menu.  Details of the selected page will be opened on Job Details where you can make changes and save the modified job.
To delete the job, click Delete option from the menu.
Note: If you delete a job that is currently being executed, it will continue to execute.
Click Jobs Execution Status option to view chart depicting Status Analysis of Jobs.