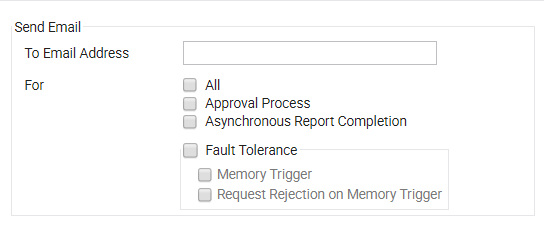 Figure 10: Setting Email Preferences
You can select your preferences about e-mails from the below:
To Email Address: The mailing address on which you want to notification e-mails from portal.
For: Select your preferences about e-mails as below:

All: All the mails (all of the options listed below).
Approval Process: To receive email when you are required to act on a publish-pending report. To know more on Approval Process properties, please refer "ConfiguringIntellicus.pdf".
Asynchronous Report Completion: When you execute a report in background, to receive a mail about its success or failure.

Fault Tolerance (Admin only): Select this check box to receive e-mails in case of Fault Tolerance.

Memory Trigger: When report server memory goes above trigger level.