You can drag and drop or double-click the Slideshow under Dashboard Elements > Placeholders to add to the dashboard. Multiple widgets from any category and/or multiple categories can be added to the Slideshow. You can drag and drop widgets or categories from under Dashboard Elements onto the slideshow area as shown in Figure 8.


Figure 8: Slideshow Options
Click the Remove icon

 to remove the widget/category from the slideshow. You can also sequence the order of widgets or categories being played on the slideshow by moving up and down the Reorder icon

.
On clicking Done, the widgets would start appearing as a slideshow. You can at any time Pause/Play the slideshow using


 buttons. Also, you can jump to a widget by clicking its respective bubble on the slider that appears on the slideshow.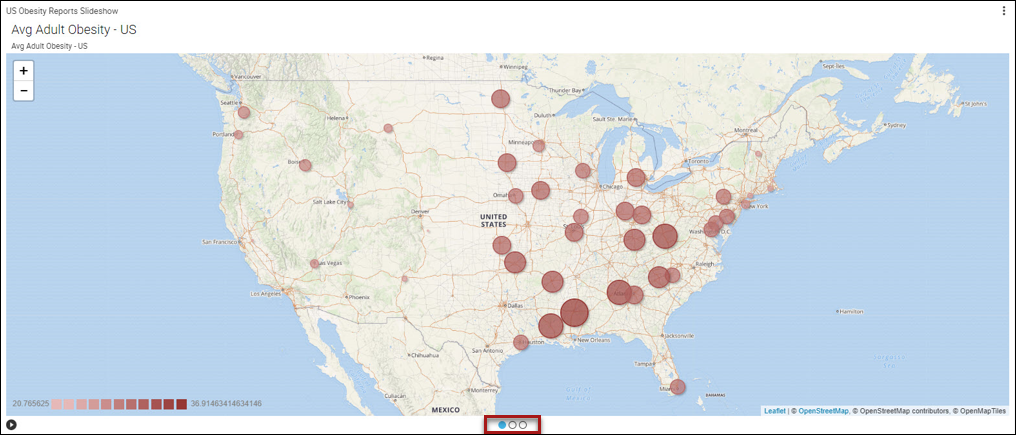 Figure 9: Slideshow on Dashboard
Below options are available on the Slideshow menu:
Click Maximize (or double-click the widget header) to maximize the slideshow area to fit the entire screen. Alternately, you can click Restore to reset the slideshow area to its original state.
You can click Unpin/ Pin Header to unpin/ pin the slideshow title.
Under Settings, you can specify a name for the slideshow and the Auto Rotation time (in seconds) to rotate the widgets on the slider.
Click Edit Slideshow to go back to the slideshow view from where you can add widgets/categories and remove/reorder them.
The Remove option would completely remove the slideshow from the dashboard.