As a business end user, you can open an existing smart report by navigating to the Explorer and double-clicking a smart report. Double-clicking the report will open the report in the format it was accessed the last time. You can alternately right click the report (whose Report Format is 'SMART') and choose the Run Report option as shown in Figure 1.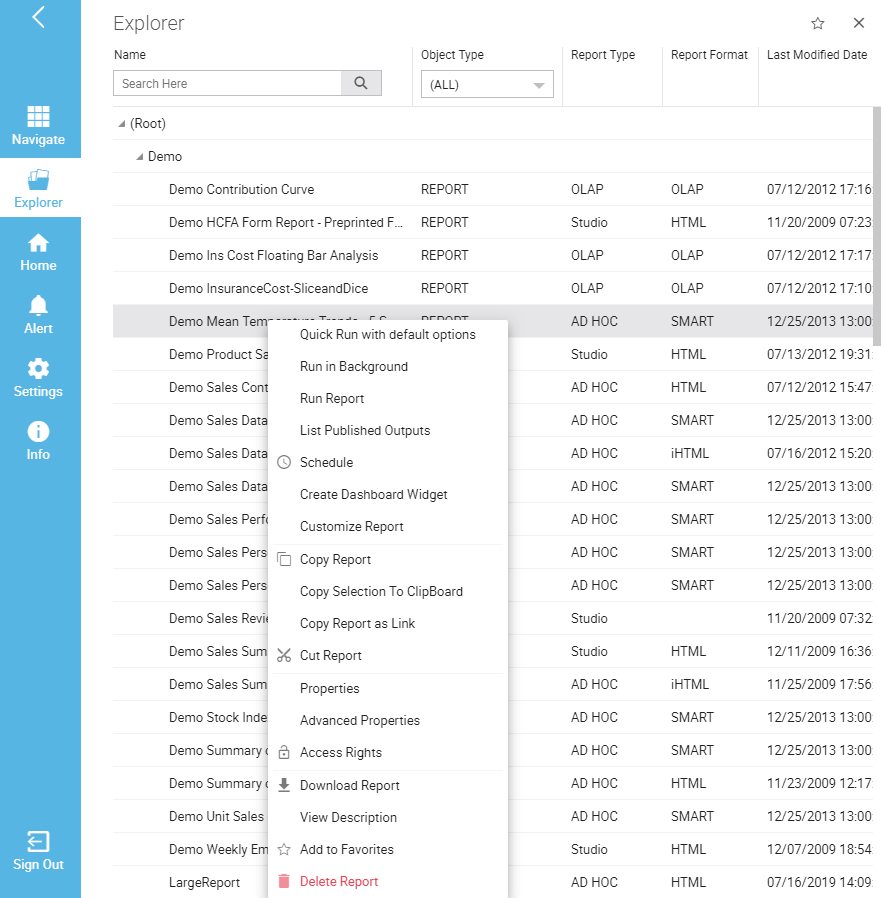 Figure 1: Run Report option for an existing smart report
Once you run a report, you will get options to choose format and edit settings based on different formats. The report will get generated as per the format and settings you enter here. To view the report in Smart view format, select SMART from the drop down.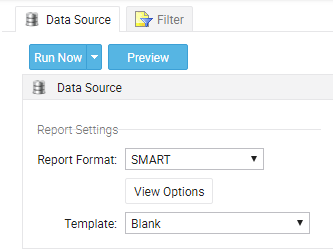 Figure 2: Report format settings
By Default, a report will open in the mode it was accessed the last time. Below image shows how a report appears in the View Mode.


Figure 3: Smart Report in View Mode
When a smart report is opened in View Mode, you can do much more than just viewing the report.
While viewing a report you may want to see different visualizations like grid, chart, matrix or map in different ways.  All these can be done in the View mode. The following sections help you view your report output after applying certain visualizations.
The details on how to apply various functions like grouping, totaling, highlighting etc. over visualizations is covered in Designing Smart Reports section.
Interactive Grid
Smart View grid is representation of data in tabular format with a series of rows and columns. The grid format helps you to visually analyze and compare rows of data at a time. Data in the grid provides fast response for interactive reporting operations like searching, sizing of columns, re-positioning of columns. Let us now look at the effects of various operations as applied to a grid.
Hide/unhide a column
You can hide a column that is appearing on the report by following the below steps.
Right-click the mouse anywhere on the column title. A list of columns appears.
Uncheck the column(s) to hide.


Figure 4: Hiding/showing a column
The report will be refreshed automatically which will not have the column(s) that were hidden.
All the checked column(s) would show in the report.
Change column position on report
You can reposition a column already placed on the report as mentioned in below steps.
Click and drag the mouse on the column header towards left or right side of the column to reposition.
A black line appears where the column will be placed. Release the mouse key after reaching at the right place.
The report will be refreshed with the field placed at the new location.


Figure 5: Changing position of a column
Resize a column
You can resize a column already placed on the report. You can do the following to achieve this:
Hover the mouse towards the left or right of the column header which you want to resize. Markers appear on left and right edge of the column.
Drag the double-headed arrow to resize the column.
Release the mouse key after required resizing is done.


Figure 6: Resizing a column
Report will be refreshed with new size of the column.
View Searching
You can enter field values (full or partial) in the text boxes below column names to see records matching the inline search criteria.

Figure 7: Searching in report
View Grouping
Grouping is required to summarize, or aggregate data based on business key. For example, total sales achieved for each product category.
You can view multi-level grouping in your report, for example, group the report data by 'Year'; within 'Year' by 'Sale Date'; within 'Sale Date' by 'Store Address' and then by 'Product Category'.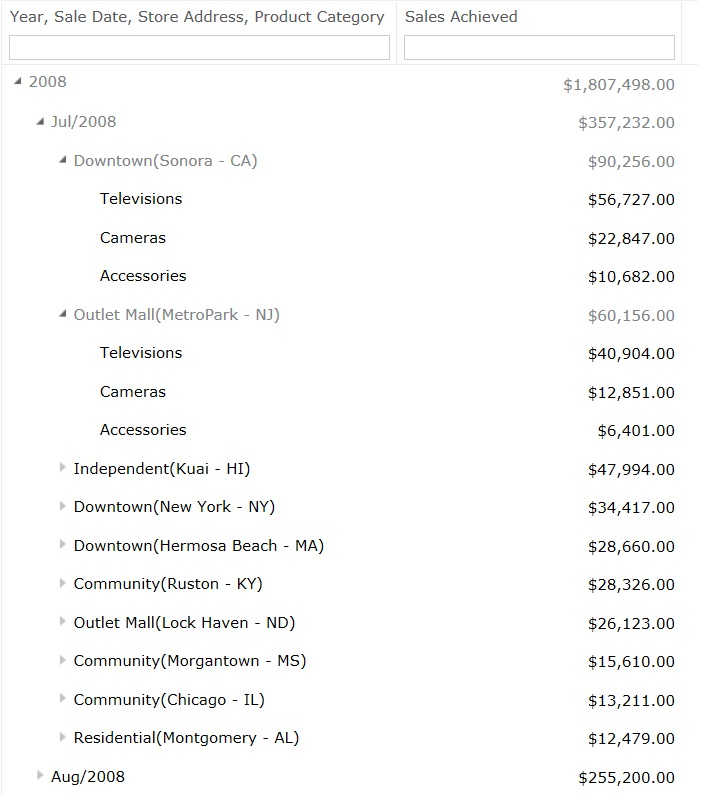 Figure 8: Grouping view in report
View Totaling
Consider you have applied Sum function on 'Sale Amount' at Product Line Group level. You can view the total sales amount for say Water Purifiers as shown below: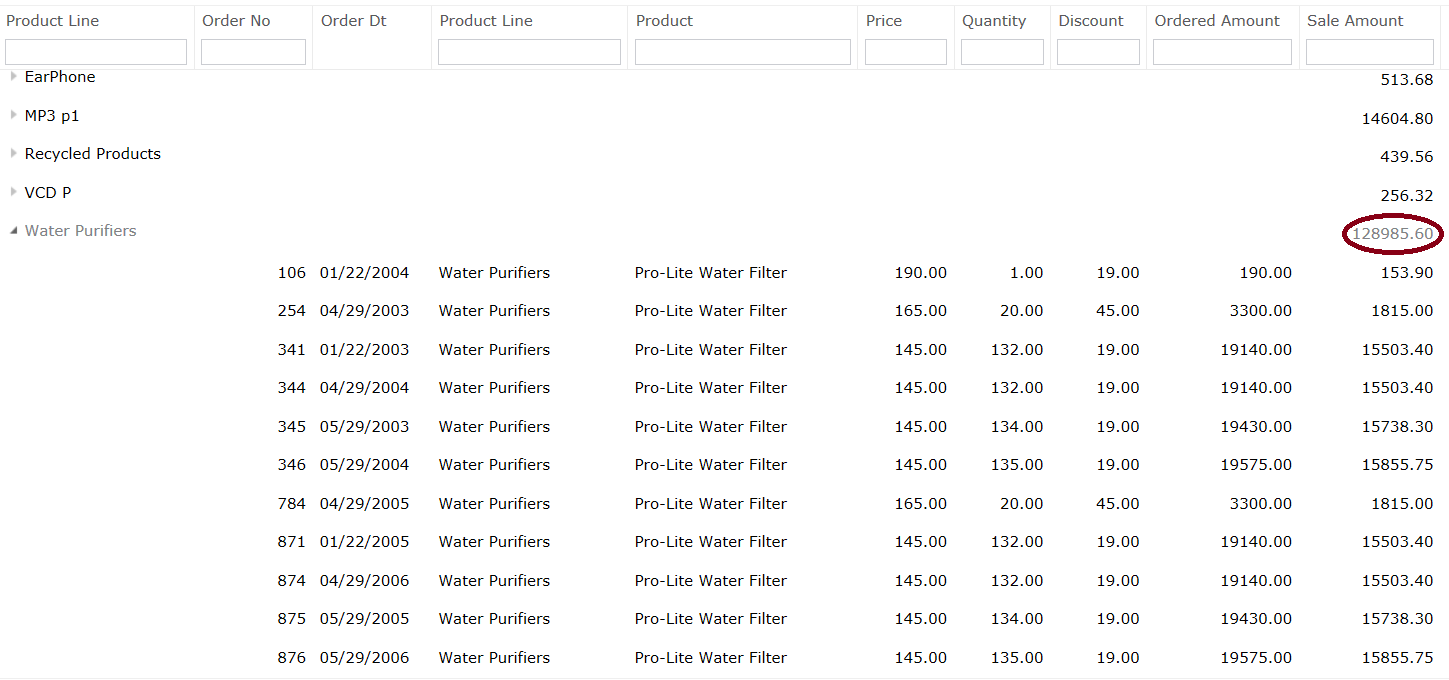 Figure 9: Totaling view in report
View Sorting
Smart View supports multiple level of sorting.  For example, you can Sort By 'State' and within 'State' sort by 'City'.
You can click the column name to sort the column in ascending/descending order.


Figure 10: Sorting in report
View Highlighting
You can see multiple highlights on a report with the help of a Legend. For example, highlight Sales Persons with 'Sales Value' above Threshold; below Target Sales and above Threshold; and below Threshold in different colors and styles.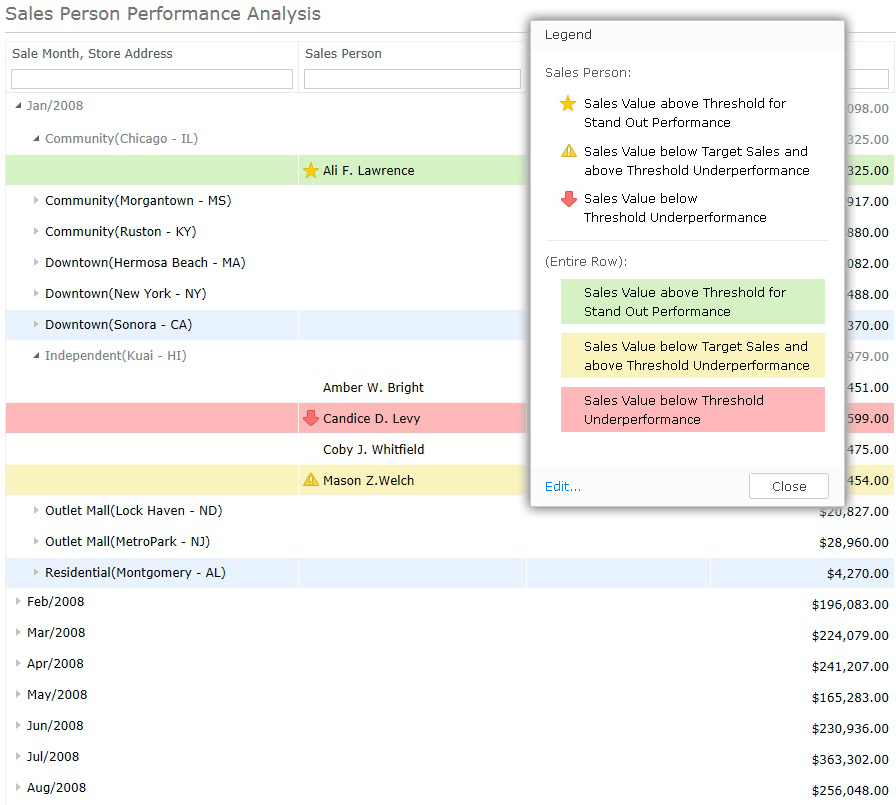 Figure 11: Highlighting in report
You can also view the alerts generated upon critical business scenarios; for example, alerts highlight scenarios where the sales value is below the specified target.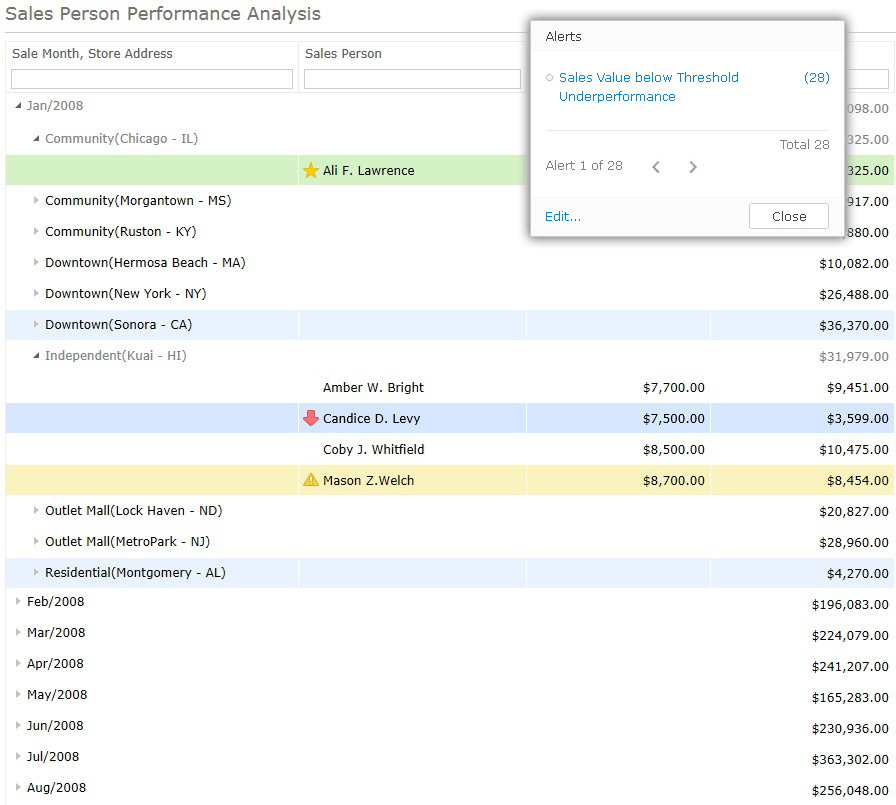 Figure 12: Alerting in report
View Filtering
In the View Mode, you can interact with filters that already exist in the report. You won't be able to save your filter changes though.
The below example shows the filtered view of sales persons details for the month of April 2008.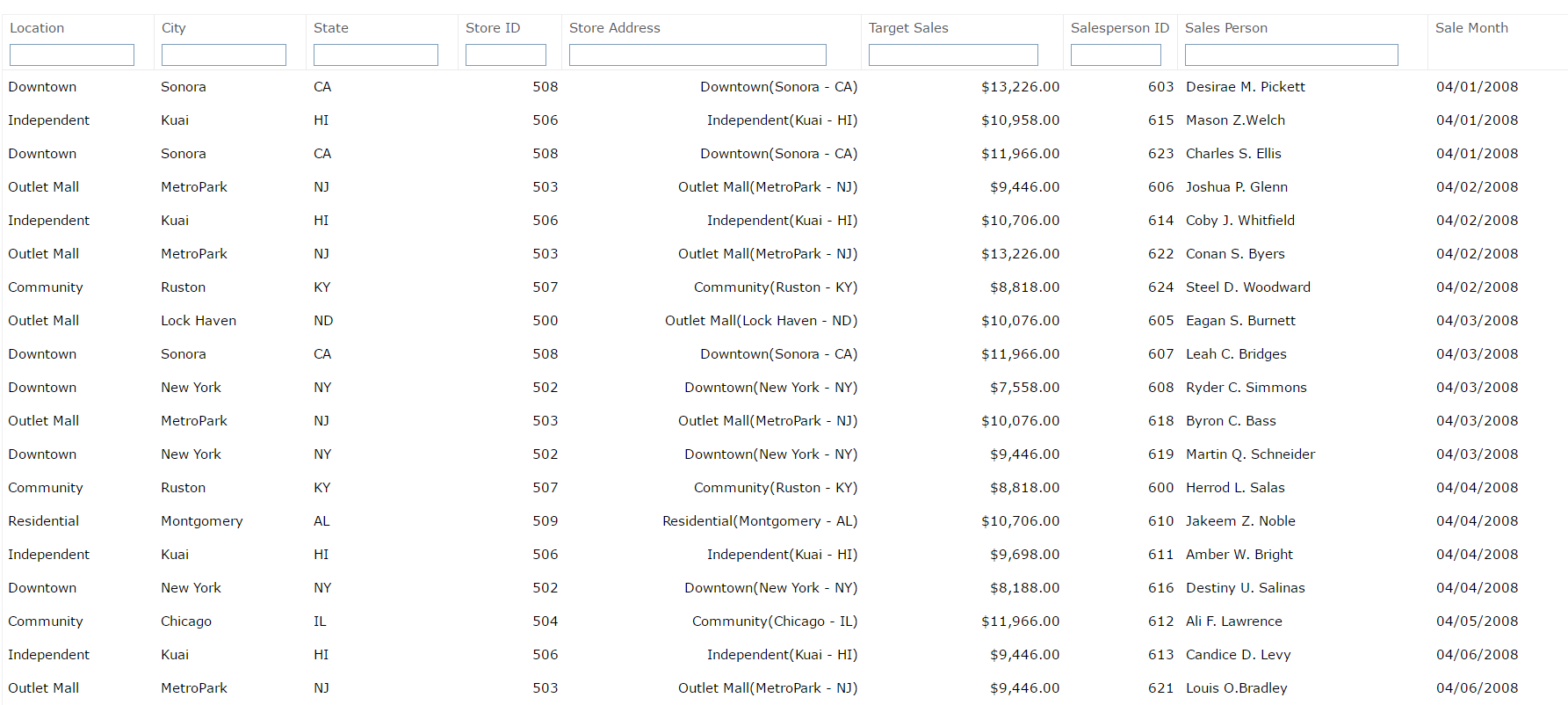 Figure 13: Filtering in report
The details on filtering options can be referred from the Ad hoc Filters section.
Interactive Chart
Intellicus' Smart View provides a highly interactive experience while using charts. You can have multi-dimensional charts of various types like Bar, Column, Pie, DoughNut, Scatter, Bubble to name a few.
Smart View lets you view multiple charts on a data set arranged in one or more tabs.
The below image shows a chart tab created with 2 charts – one showing breakup of transaction amount by location and card type and another showing its trend on timeline.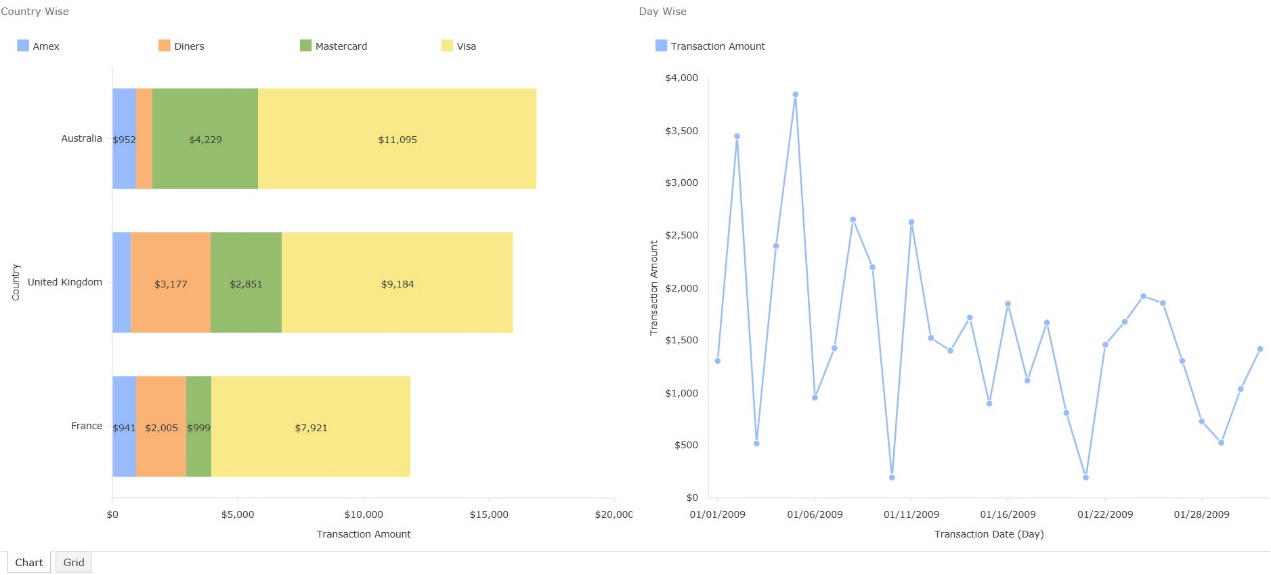 Figure 14: Multiple Charts in report
An example where the Sales Manager can track real-time sales varying with time is shown below.


Figure 15: Real-time Charts in report
You also have an option to split the chart on an x-axis field into multiple charts. The number of charts drawn will be equal to the number of x-axis values on which split is applied (as shown in Figure 16).
This would facilitate to better analyze the data by focusing on chosen field values split separately into charts. You can also specify the Split Order as ascending/ descending or show the top n values of the selected field.
An example where a report is split into single charts for each value on X-Axis showing transaction amount through different card types for various countries is shown below.

Figure 16: Split view in charts
Interactive Matrix
Using the matrix viewer, you can summarize your data set in the form of a pivot table with cross tabulated values. The matrix viewer provides expanding and collapsing on both rows and columns.
An interactive matrix where 'Product Category', 'Product Type' and 'Product' are displayed in rows and 'Manufacturer' is displayed in column is shown in Figure 17.  A cross section of 'Product Category', 'Product Type', 'Product' and 'Manufacturer' will display sales (in units and amount) of that product under that manufacturer.
You can also swap the row(s) and column(s) by dragging and dropping the field onto column(s) or row(s) respectively.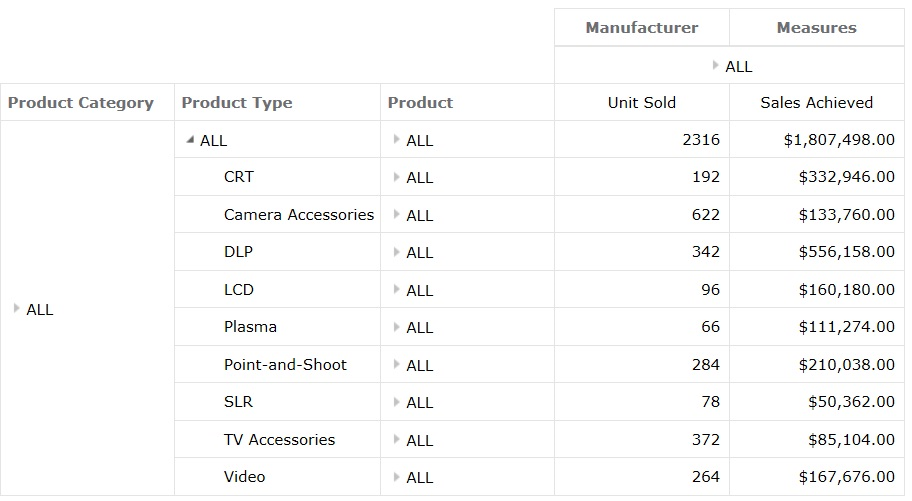 Figure 17: Interactive Matrix in report
Interactive Map
GIS maps in smart reports offer enhanced mapping capabilities, demographic data, and interactive visualizations to best derive spatial analytics. It enables to zoom or pan the map, drill-down to other reports or external URLs.
A map showing website visits from different locations of the USA is shown in Figure 18. You can see the attributes information on mouse-click over the specific area.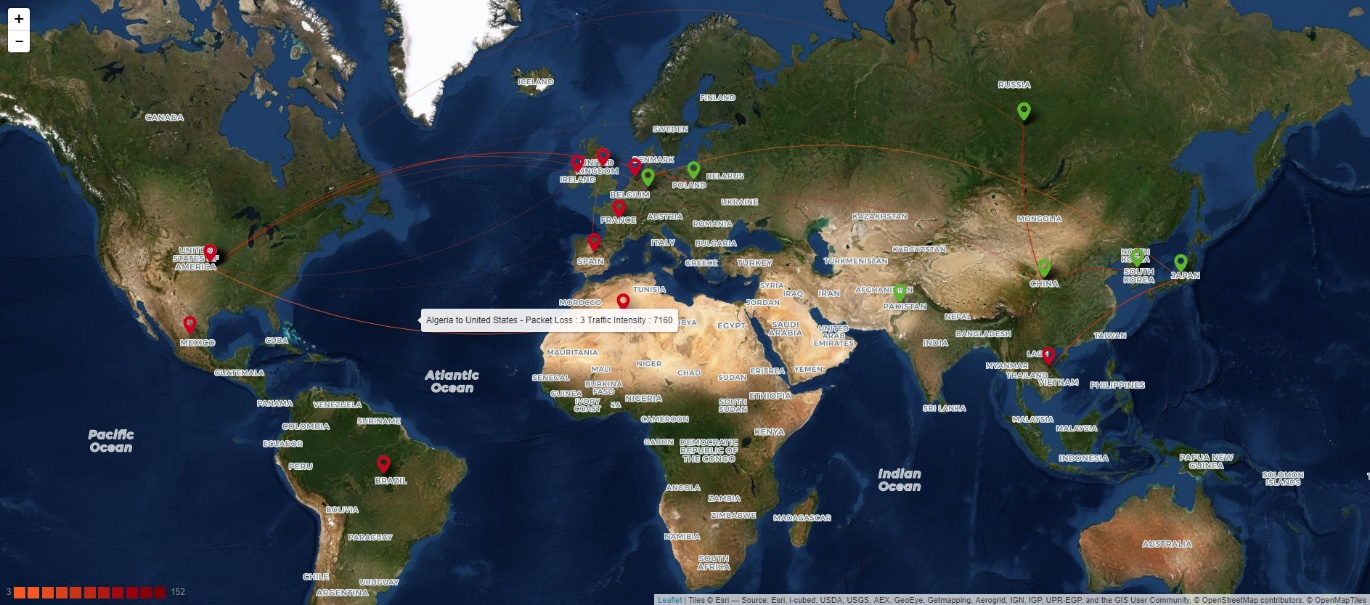 Figure 18: Interactive Map in report
Report (Menu) Options
The various actions that can be performed at the report level using main menu 

located at the top-right position on the Smart View are given in the below table:
Action Buttons:
Button
Comments
Data Source
Displays the Query Object used in this report
Refresh Data
Refreshes data under all views (reruns query to fetch data from server)
Export
You can export your report in MS EXCEL, ACROBAT PDF, COMMA SEPARATED, TEXT, MS WORD and MS POWERPOINT (license-governed) formats. Reports are exported in their respective native formats so that you can perform various operations supported in the above-mentioned tools.

The grid in our reports is exported as its equivalent table in Excel, Word and PDF. The matrix is exported as a Pivot table in Excel and as a table in Word and PDF. The chart is exported as a chart in Excel, Word and as an image in PDF

Note: The chart types that are not supported in MS Office (Gauge, Counter, Tree Map, and Packed Circle) would be exported as images only.

Currently, the threshold and negative color values (if applied) in our charts cannot be exported.

Note: You cannot export maps in the current version of Intellicus.

MS EXCEL, TEXT
General tab
Download Zipped File
Check/Uncheck
Check = Zip the file and download
ACROBAT PDF, MS WORD, MS POWERPOINT
General tab
Download Zipped File
Check/Uncheck
Check = Zip the file and download
Page Settings
Orientation
Select from options
Select either Portrait or Landscape.

Default: Portrait

Paper Size
Select from options
Select from the list of standard paper sizes. Default: Letter
Height
Specify a value
Default: 11"
Width
Specify a value
Default: 8.5"
Margins
Specify values for Top, Bottom, Right and Left margins
Default: 0.3"
COMMA SEPARATED Options
Separator
Select (under Predefined) or Type yourself (under Custom)
Select the separator character to be inserted between columns in the CSV output
Enclosure
Select (under Predefined) or Type yourself (under Custom)
Select the enclosure character to be used to enclose each column value in the CSV output
Template
Select from list
Select an Excel template (from Intellicus>ReportEngine

>templates>excel location) to export data to the first sheet of excel file

Include
Check/Uncheck
Select to export grid, chart, matrix or their combination data to CSV
Download Zipped File
Check/Uncheck
Check = Zip the file and download
Publish

When you publish a saved report, its output is generated and saved which can be opened and viewed in the future for a faster response.

You can publish a report in any of the available Report formats from under Report Format dropdown (HTML, ACROBAT PDF, COMMA SEPARATED, TEXT, iHTML, SMART, MS WORD, MS EXCEL and MS POWERPOINT).

You can specify report location, name, access mode as Public (visible to all users) or Private (visible to specific users) and date of expiry after which the published report will not be available.

Add Comment helps you add descriptive comments to your published report

Email
You can select to email your report as attachment or link (for saved report) or embed (in the email message body) in various formats. The different options available for each report format are as mentioned above under Export. Also, the report can be emailed as a zipped file if you check 'Attach Zipped' option under Options
Upload
You can upload your report in various formats over FTP or Shared Folder. The different options available for each report format are as mentioned above under Export. Also, the report can be uploaded as a zipped file if you check 'Upload Zipped option under Options. Intellicus supports both secure and passive modes of FTP
Print
Locally: You can view or download the PDF depending on the Default Print Option (Navigate > Personalization > Preferences > User Preferences). The PDF can then be printed upon selecting a printer and printing options in your local network

Direct: You can directly print on the default set printer

At Server: The portal can send request to the server for printing (on a configured printer at server)

Direct with Comments: You can directly print on the default printer along with the comments added to your report