Intellicus supports REST calls for integrating Intellicus data and functions into an application. This section of document discusses the Intellicus integration architecture of REST APIs along with their use cases to perform CRUD operations and apply transformations on various Reporting use cases. These REST services enable you to log in, and then perform various Administrative activities in Intellicus.
REST stands for Representational State Transfer. It relies on a stateless, client-server, cacheable communications protocol — and in virtually all cases, the HTTP protocol is used.
RESTful applications use HTTP requests to post data (create and/or update), read data (e.g., make queries), and delete data.
Rest Integration Architecture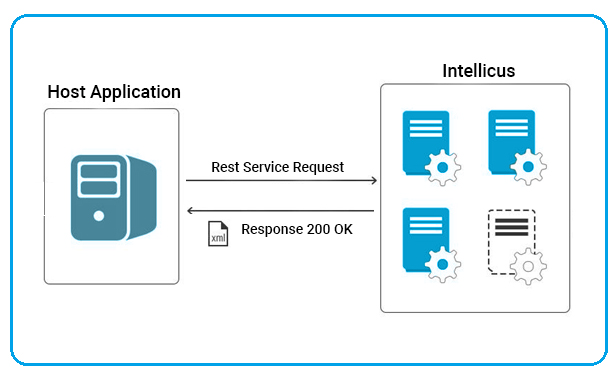 Response Code
The intellicus API attempts to return appropriate status codes for every request.
| | |
| --- | --- |
| Response Code | Response Message |
| 200 |          OK |
| 503 |          TIMEOUT OCCURED. LOGIN AGAIN. |
| 401 |          UNAUTHORIZED ACCESS |
| 404 |          RECORD NOT FOUND |
| 412 |          PRECONDITION FAILED. PARAMETER MISSING |
| 500 |          FAILED |
Accessing the REST API
We have created REST clients using JERSEY client APIs that we ship with Intellicus installer. To use those intellicus Restful APIs, we used below jersey jars :
jersey-bundle.jar
jersey-client.jar
java-json.jar