The installation process creates the following folders in the installation folder:


Figure 11: IntellicusDEFA Folder Structure
You can start DEFA immediately after the installation from under Start > All Programs > Intellicus > IntellicusDEFA > Start DEFA.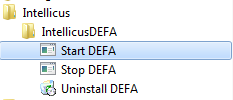 Figure 12: Options in IntellicusDEFA menu
The DEFA Server will now start automatically when you restart the machine.
User can check the status of the server under Services.